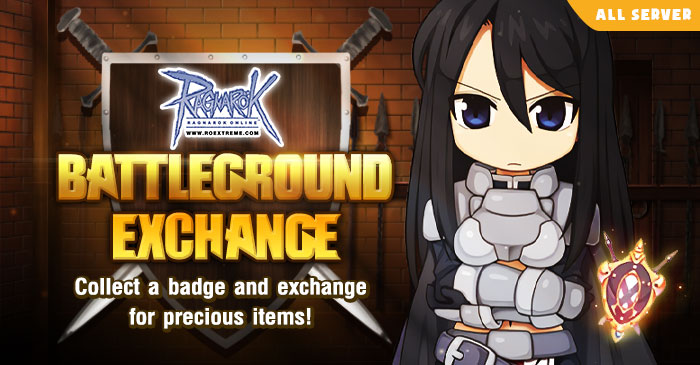 Brave and Valorous weapon is a mighty weapon that especially designed for battle. Those who own it will have tremendous power to against Demi-Human Monster. If you want to own it, just collect a badge and exchange at NPC Battle Girl!.

Available for all servers - Valhalla and Yggdrasil


You can get the Bravery or Valor Badge by bringing the Mysterious Kard for exchange at NPC Dewata officer.

Mysterious Kard can be obtained from local monsters in the Dewata field and dungeon areas.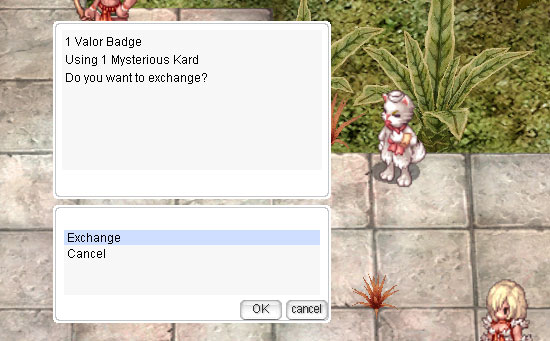 Mysterious Kard 1 ea >> Exchange to Bravery or Valor Badge 1 ea.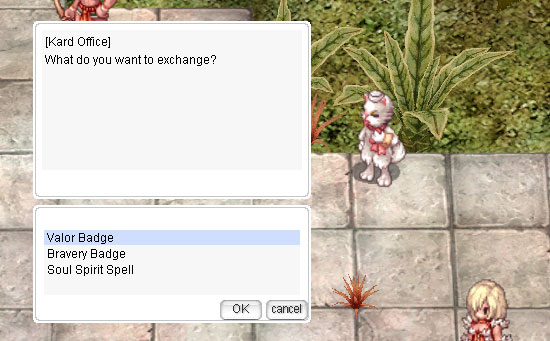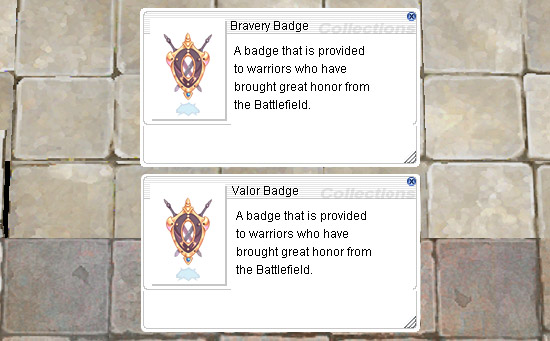 Remark
Valor Badge and Bravery Badge are untradeable.

In the future, the player will be able to obtain the badge from other activities, please stay tuned.


You can collect the badge and bring it to exchange reward at NPC Battle Girl.
(Eden Group 14, 91)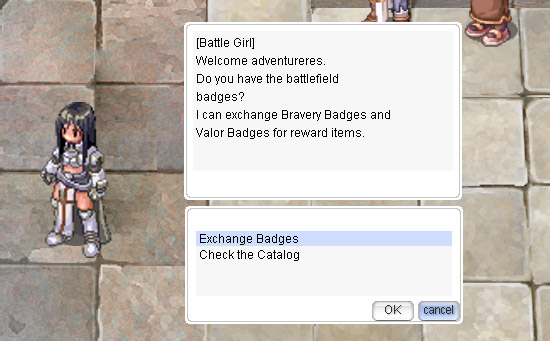 The item for exchange is divided into 3 categories as shown in the picture below.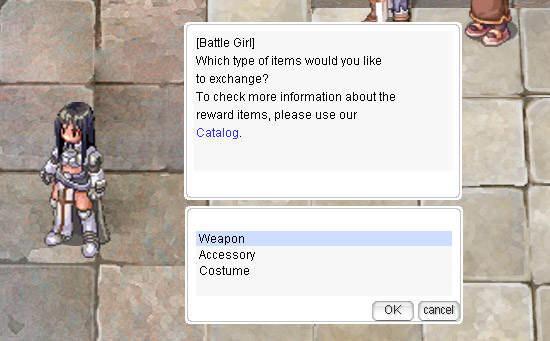 If you want to check the item list, select "Check the Catalog".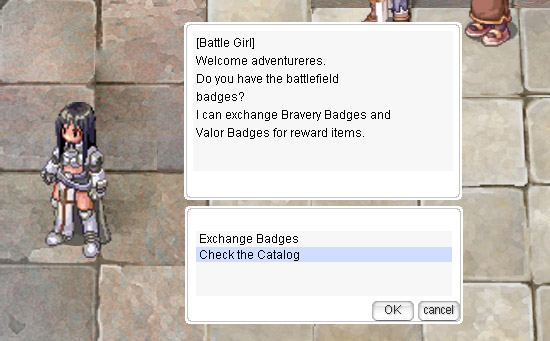 Using

Bravery Badge

for exchange

Badge
Required

Weapon Exchange List

Bravery Badge
1,000 ea

[Untradeable, Can be placed in storage]
Bravery Badge
1,000 ea

[Untradeable, Can be placed in storage]
Bravery Badge
1,000 ea

[Untradeable, Can be placed in storage]
Bravery Badge
1,000 ea

[Untradeable, Can be placed in storage]
Bravery Badge
1,000 ea

[Untradeable, Can be placed in storage]
Bravery Badge
1,000 ea

[Untradeable, Can be placed in storage]
Bravery Badge
1,000 ea

[Untradeable, Can be placed in storage]
Bravery Badge
1,000 ea

[Untradeable, Can be placed in storage]
Bravery Badge
1,000 ea

[Untradeable, Can be placed in storage]
Bravery Badge
1,000 ea

[Untradeable, Can be placed in storage]
Bravery Badge
1,000 ea

[Untradeable, Can be placed in storage]
Bravery Badge
1,000 ea

[Untradeable, Can be placed in storage]
Bravery Badge
1,000 ea

[Untradeable, Can be placed in storage]
Bravery Badge
1,000 ea

[Untradeable, Can be placed in storage]
Bravery Badge
1,000 ea

[Untradeable, Can be placed in storage]
Bravery Badge
1,000 ea

[Untradeable, Can be placed in storage]
Bravery Badge
1,000 ea

[Untradeable, Can be placed in storage]
Using

Valor Badge

for exchange

Badge
Required

Weapon Exchange List

Valor Badge
1,000 ea

[Untradeable, Can be placed in storage]
Valor Badge
1,000 ea

[Untradeable, Can be placed in storage]
Valor Badge
1,000 ea

[Untradeable, Can be placed in storage]
Valor Badge
1,000 ea

[Untradeable, Can be placed in storage]
Valor Badge
1,000 ea

[Untradeable, Can be placed in storage]
Valor Badge
1,000 ea

[Untradeable, Can be placed in storage]
Valor Badge
1,000 ea

[Untradeable, Can be placed in storage]
Valor Badge
1,000 ea

[Untradeable, Can be placed in storage]
Valor Badge
1,000 ea

[Untradeable, Can be placed in storage]
Valor Badge
1,000 ea

[Untradeable, Can be placed in storage]
Valor Badge
1,000 ea

[Untradeable, Can be placed in storage]
Valor Badge
1,000 ea

[Untradeable, Can be placed in storage]
Valor Badge
1,000 ea

[Untradeable, Can be placed in storage]
Valor Badge
1,000 ea

[Untradeable, Can be placed in storage]
Valor Badge
1,000 ea

[Untradeable, Can be placed in storage]
Valor Badge
1,000 ea

[Untradeable, Can be placed in storage]
Valor Badge
1,000 ea

[Untradeable, Can be placed in storage]
Valor Badge
1,000 ea

[Untradeable, Can be placed in storage]
Using

Valor or Bravery Badge

for exchange

Badge
Required

Accessory Exchange List

Valor or Bravery Badge
500 ea

[Untradeable, Can be placed in storage]
Valor or Bravery Badge
500 ea

[Untradeable, Can be placed in storage]
Valor or Bravery Badge
500 ea

[Untradeable, Can be placed in storage]
Valor or Bravery Badge
500 ea

[Untradeable, Can be placed in storage]
Valor or Bravery Badge
500 ea

[Untradeable, Can be placed in storage]
Valor or Bravery Badge
500 ea

[Untradeable, Can be placed in storage]
Valor or Bravery Badge
500 ea

[Untradeable, Can be placed in storage]
Badge
Required

Costume Exchange List

Valor or Bravery Badge
1,500 ea

[Untradeable, Can be placed in storage]
------------------------------------------------------------------
▪ Ragnarok Website :: https://roextreme.com/msp
▪ Download the game :: https://exe.in.th/msp-client-download
▪ Forums :: https://prontera.net/
▪ RO MSP Community :: fb.com/groups/ROMSPOfficial/