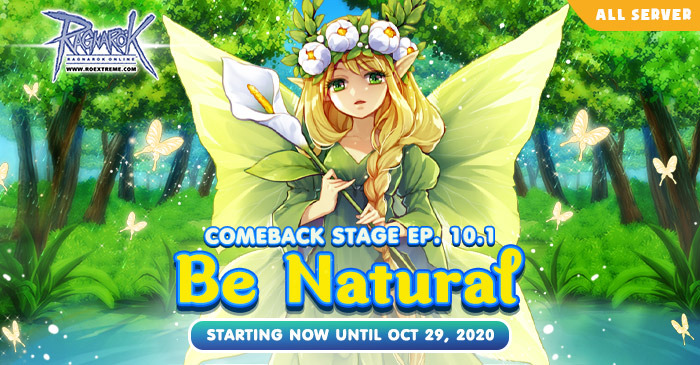 Meet our comeback stage challenge "Be Natural" that will give you double experience points when hunted down. Starting now until October 29, 2020
Available for all servers - Valhalla and Yggdrasil




Tip


Some event monsters and billboard missions are the same.
Before hunting, don't forget to receive the billboard missions
and get more EXP!. Find out more: Click!


Event starts on: October 8, 2020 (After the Maintenance)
Event ends on: October 29, 2020 (Before the Maintenance)

Meet a special guest monster within the event!

Obtain x2 EXP

when you defeat any monsters

in the list below.

Some monsters have never existed on Yggdrasil servers before. Please be careful!

Talk to NPC Tiffany to get a free teleport to the event map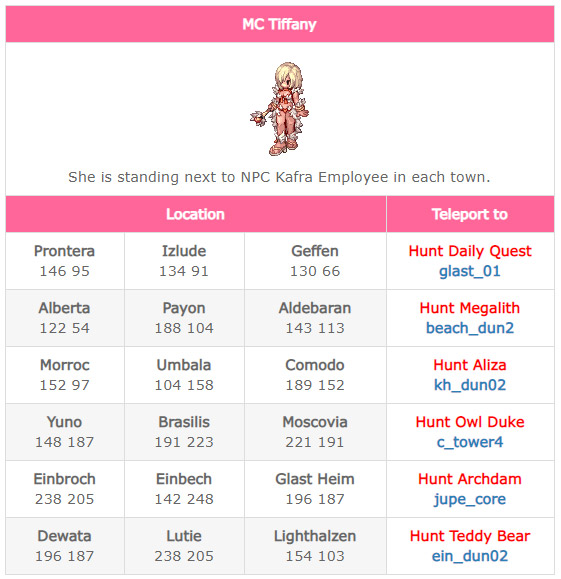 Suggestion Map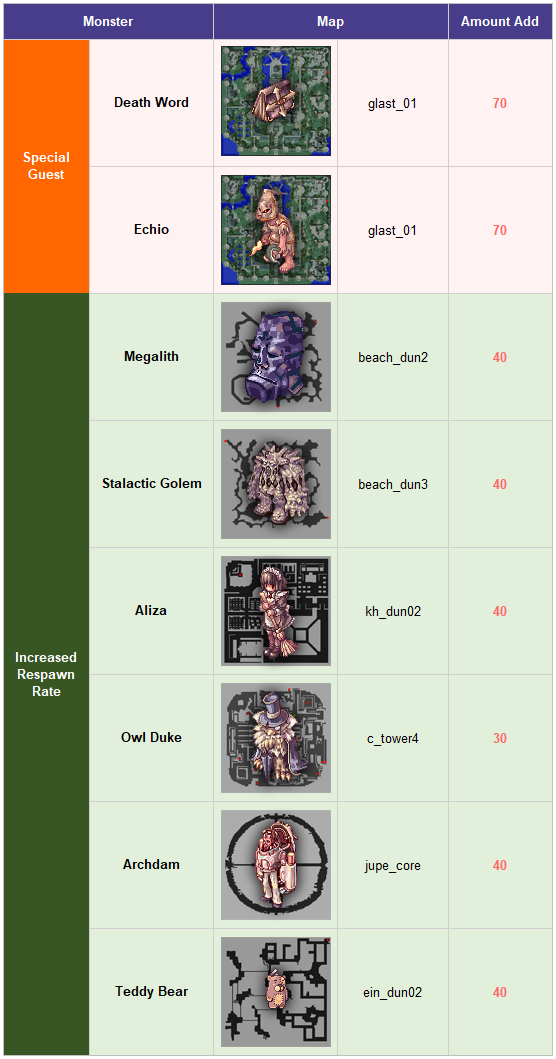 Tiffany Quest *for LV30+ only*
can be redone every 3 hours.
(Obtain the quest from NPC MC Tiffany)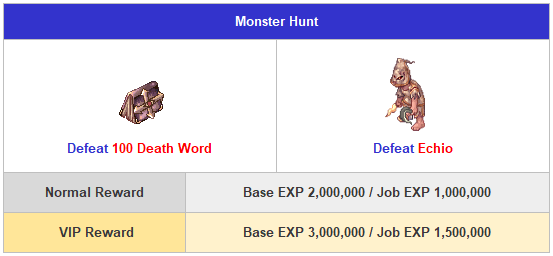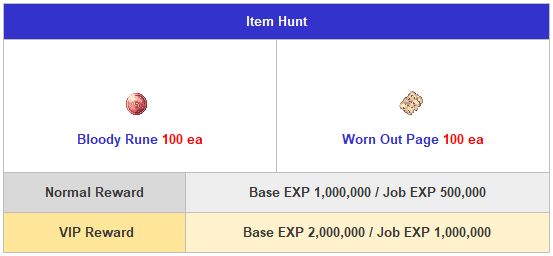 Tiffany Quest walkthrough: Click
Defeat these monsters and get Double EXP!

Neutral Property Monster

Level

Monster

X2




Base EXP

X2




Job EXP

25

Golem

930

188

25

Cookie (Green)




Billboard: Lutie

620

376

27

Dumpling Child




Billboard: Gonryun

462

298

30

Karakasa




Billboard: Amatsu

978

644

30

Sasquatch




Billboard: Lutie

1,058

638

35

Cruiser




Billboard: Lutie

2,200

900

38

Myst Case




Billboard: Lutie

2,226

1,376

42

Novus (Red)




Only Valhalla

2,640

2,004

43

Novus (Yellow)




Only Valhalla

2,822

2,200

43

Sageworm




Billboard: Glast Heim

2,310

2,640

43

Dragon Egg




Only Valhalla

13,480

0

45

Megalith




Billboard: Comodo

3,516

2,150

51

Mimic

330

330

56

The Paper




Billboard: Amatsu

5,698

3,996

56

Taoist Hermit




Billboard: Gonryun

6,608

4,396

58

Alarm




Billboard: Al De Baran

7,974

4,600

59

Vanberk




Only Valhalla

8,406

1,802

59

Rideword




Billboard: Glast Heim

4,014

6,212

60

Ancient Mimic




Only Valhalla

5,900

5,300

60

Stalactic Golem




Billboard: Comodo

11,616

5,390

62

Isilla


Only Valhalla
(Super EXP)

12,004

12,004

62

Fanat




Only Valhalla

8,204

8,204

62

Aunoe




Only Valhalla

8,204

8,204

62

Alice

7,166

4,800

63

Permeter




Billboard: Alberta

7,512

3,910

63

Clock Tower Manager

8,756

5,700

64

Elder

11,300

6,816

65

Death Word




Special guest

5,972

9,824

66

Apocalypse




Billboard: Juperos

19,800

13,800

69

Aliza




Billboard: Kiel Factory

14,000

7,000

69

Echio




Special guest

27,120

8,600

72

Venatu (Purple)




Billboard: Juperos

8,700

4,600

72

Cobalt Mineral

24,664

20,758

73

Agav




Only Valhalla

19,560

13,244

73

Heavy Metaling

18,640

17,662

75

Aliot




Billboard: Kiel Factory

17,400

11,200

75

Violy

12,706

7,058

75

Alicel




Billboard: Kiel Factory

16,700

10,420

75

Owl Baron

21,934

9,622

75

Owl Duke

14,434

6,948

75

Metaling




Billboard: Einbroch

5,600

3,496

77

Mineral




Billboard: Einbroch

7,960

4,880

79

Archdam




Billboard: Juperos

18,800

10,000

79

Medusa




Billboard: Comodo

13,752

9,394

80

Bow Guardian




Only Valhalla

100,298

46,012

81

Dame of Sentinel




Only Valhalla

79,744

66,240

82

Waste Stove




Billboard: Einbroch

12,000

7,250

82

Zakudam

54,426

32,600

85

Teddy Bear




Billboard: Einbroch

8,460

7,198

86

Sword Guardian




Only Valhalla

310,026

245,208
------------------------------------------------------------------
▪ Ragnarok Website :: https://roextreme.com/msp
▪ Download the game :: https://exe.in.th/msp-client-download
▪ Forums :: https://prontera.net/
▪ RO MSP Community :: https://exe.in.th/ROMSPOfficialComm