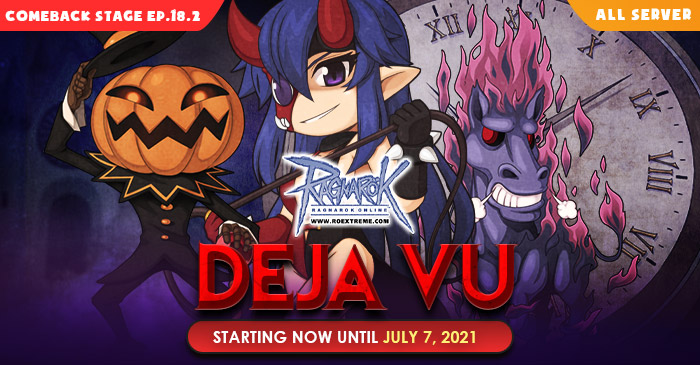 Meet our comeback stage challenge "Deja Vu" that will give you double experience points when
hunted down. Starting now until July 7, 2021.

Available for all servers - Valhalla and Yggdrasil




Tip


Some event monsters and billboard missions are the same.
Before hunting, don't forget to receive the billboard missions
and get more EXP!. Find out more: Click!


Event starts on: June 24, 2021 (After the Maintenance)
Event ends on: July 7, 2021 (Before the Maintenance)

Increase respawn rate for the specific monsters within the event!

Obtain x2 EXP

when you defeat any monsters

in the list below.

Some monsters have never existed on Yggdrasil servers before. Please be careful!

Talk to NPC Tiffany to get a free teleport to the event map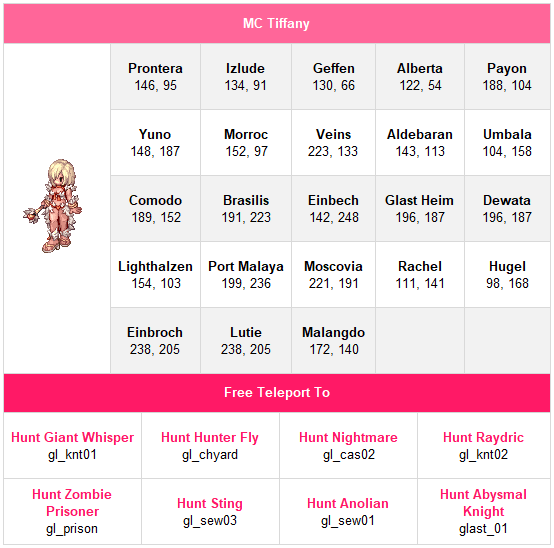 Suggestion Map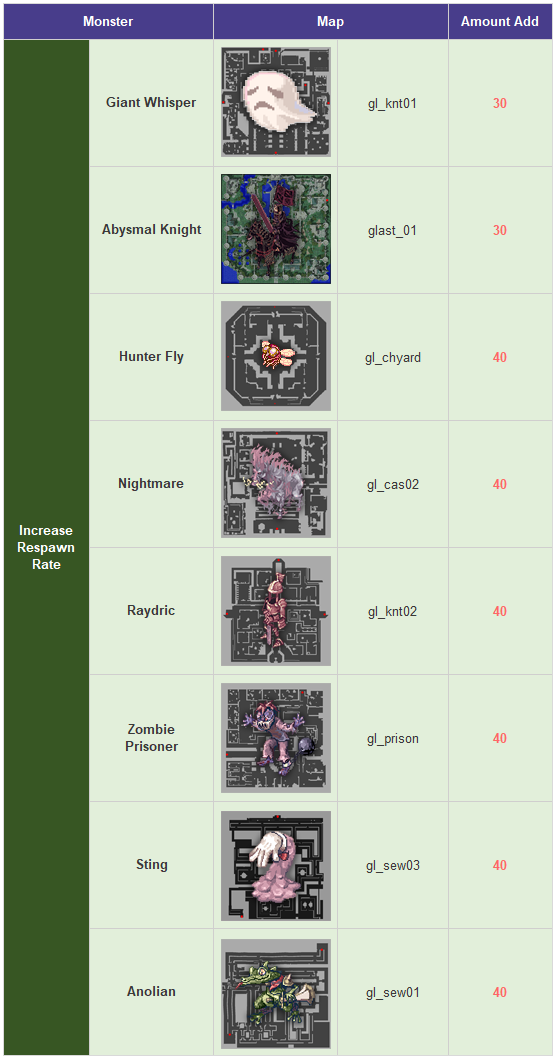 Tiffany Quest *for LV30+ only*
can be redone every 3 hours.
(Obtain the quest from NPC MC Tiffany)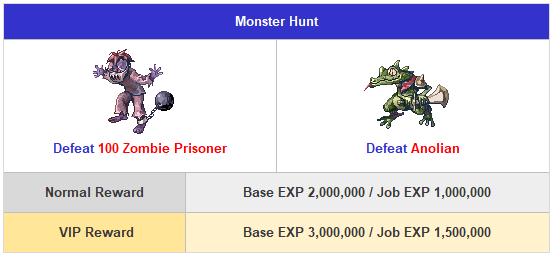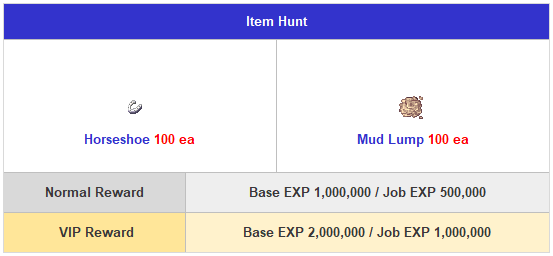 *Players that are unable to receive quests,
please delete the daily quest from comeback stage previous episode
with MC Tiffany and talk to receive the quest again.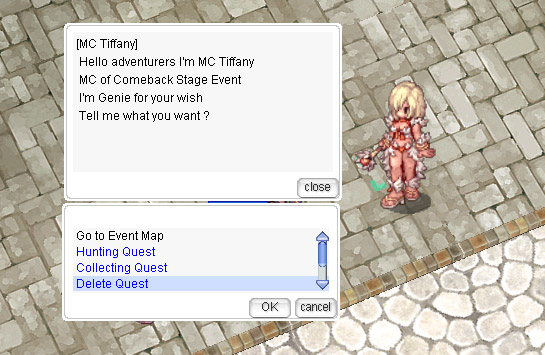 Tiffany Quest walkthrough: Click
Defeat these monsters and get Double EXP!
Level

Monster

X2




Base EXP

X2




Job EXP

24

Drainliar




Billboard: Geffen

862

352

34

Whisper




Billboard: Geffen

1,182

1,198

34

Giant Whisper

1,074

1,090

38

Jakk




Billboard: Geffen

2,816

1,760

38

Myst




Billboard: Prontera

2,782

1,376

40

Ghoul




Billboard: Glast Heim

2,176

1,244

41

Marionette




Billboard: Geffen

2,156

2,552

42

Hunter Fly




Billboard: Prontera

3,034

1,904

43

Sageworm




Billboard: Glast Heim

2,310

2,640

44

Bathory




Billboard: Geffen

5,006

2,068

46

Brilight




Billboard: Glast Heim

3,652

2,662

48

Gargoyle

3,300

3,300

49

Nightmare




Billboard: Geffen

3,824

3,824

51

Carat




Billboard: Glast Heim

3,852

2,706

51

Mimic

330

330

51

Injustice




Billboard: Glast Heim

4,236

2,976

51

Wind Ghost

4,848

2,976

52

Raydric




Billboard: Glast Heim

6,820

3,590

52

Raydric Archer




Billboard: Glast Heim

6,050

4,250

52

Skel Prisoner




Billboard: Glast Heim

4,932

3,124

53

Wraith




Billboard: Glast Heim

4,398

2,198

53

Zombie Prisoner




Billboard: Glast Heim

5,270

3,448

56

Cramp




Billboard: Glast Heim

4,600

3,026

57

Joker

7,412

4,724

58

Evil Druid




Billboard: Glast Heim

5,780

3,654

59

Rideword




Billboard: Glast Heim

4,014

6,212

59

Dark Frame




Billboard: Glast Heim

7,304

6,542

59

Arclouze




Billboard: Glast Heim

1,720

2,000

61

Sting




Billboard: Glast Heim

8,162

5,940

61

Anolian




Billboard: Comode / Al De Baran

11,800

7,400

62

Alice




Billboard: Juno

7,166

4,800

63

Khalitzburg

8,756

5,500

63

Zealotus

7,216

4,608

66

Majoruros

17,050

7,598

70

Chimera

9,900

6,000

74

Wanderer




Billboard: Glast Heim

11,572

9,460

75

Owl Duke

14,434

6,948

76

Mysteltainn

12,914

10,318

79

Abysmal Knight

16,938

12,536

82

Bloody Knight

20,240

13,640
------------------------------------------------------------------
▪ Ragnarok Website :: https://roextreme.com/msp
▪ Download the game :: https://exe.in.th/msp-client-download
▪ Forums :: https://prontera.net/
▪ RO MSP Community :: fb.com/groups/ROMSPOfficial/