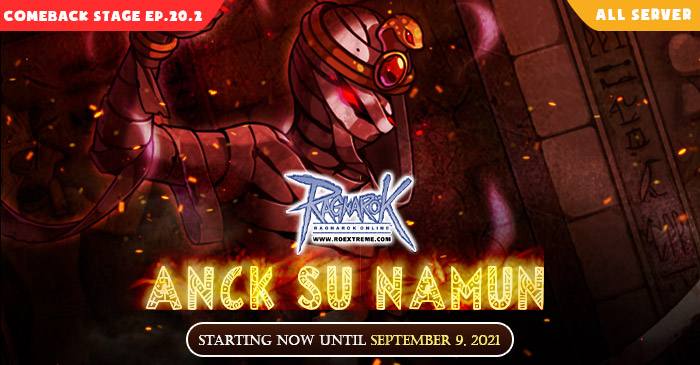 Meet our comeback stage challenge "Anck Su Namun" that will give you double experience points when hunted down.

Available for all servers - Valhalla and Yggdrasil




Tip


Some event monsters and billboard missions are the same.
Before hunting, don't forget to receive the billboard missions
and get more EXP!. Find out more: Click!


Event starts on: August 26, 2021 (After the Maintenance)
Event ends on: September 9, 2021 (Before the Maintenance)

Increase respawn rate for the specific monsters within the event!

Obtain x2 EXP

when you defeat any monsters

in the list below.

Some monsters have never existed on Yggdrasil servers before. Please be careful!

Talk to NPC Tiffany to get a free teleport to the event map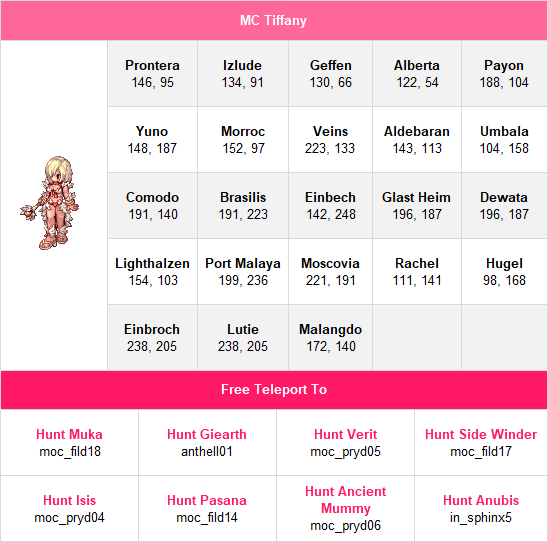 Suggestion Map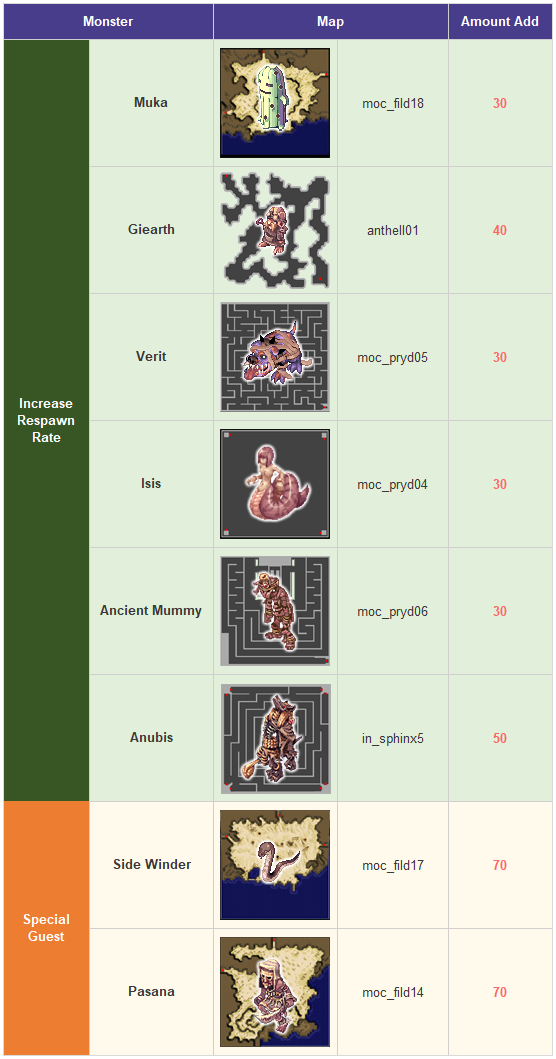 Tiffany Quest *for LV30+ only*
can be redone every 3 hours.
(Obtain the quest from NPC MC Tiffany)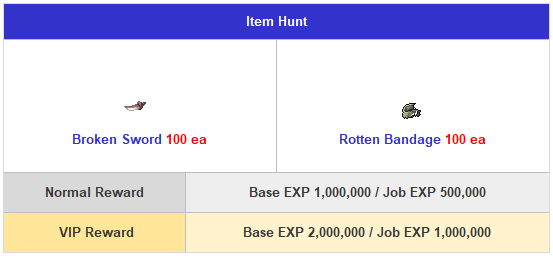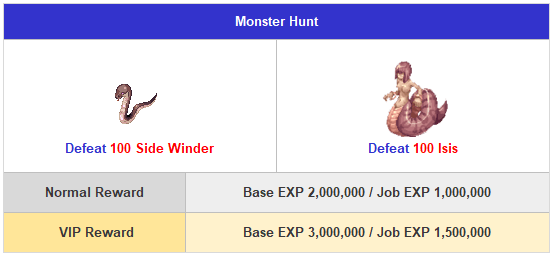 *Players that are unable to receive quests,
please delete the daily quest from comeback stage previous episode
with MC Tiffany and talk to receive the quest again.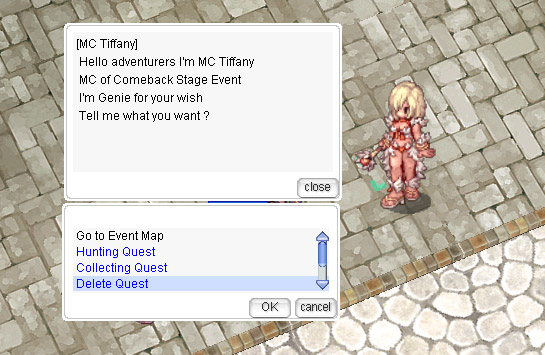 Tiffany Quest walkthrough: Click
Defeat these monsters and get Double EXP!
Level

Monster

X2




Base EXP

X2




Job EXP

17

Muka




Billboard: Morroc

546

240

18

Piere

244

156

19

Peco Peco

318

144

19

Deniro

270

170

20

Vitata

326

202

22

Metaller

482

304

23

Zerom

480

298

23

Anacondaq




Billboard: Comodo

600

298

24

Drainliar




Billboard: Geffen

862

352

24

Scorpion

574

352

25

Golem




Billboard: Geffen

930

188

26

Hode




Billboard: Morroc

1,100

600

27

Desert Wolf




Billboard: Morroc

854

532

29

Giearth

990

602

29

Soldier Skeleton




Billboard: Payon

744

452

30

Frilldora

1,058

638

31

Matyr

1,934

814

31

Archer Skeleton




Billboard: Payon

966

566

34

Sandman




Billboard: Morroc

1,620

984

35

Requiem

1,600

916

37

Mummy




Billboard: Morroc

1,600

1,204

38

Verit




Billboard: Morroc

1,670

1,034

40

Marduk

2,476

1,504

40

Ghoul




Billboard: Glast Heim

2,176

1,244

43

Side Winder

3,992

1,986

47

Isis




Billboard: Morroc

7,418

3,100

51

Mimic

330

330

52

Minorous




Billboard: Morroc

5,500

2,758

59

Arclouze




Billboard: Morroc

1,720

2,000

61

Pasana




Billboard: Morroc

8,174

4,270

64

Ancient Mummy

16,080

6,998

75

Anubis




Billboard: Satan Morroc

56,000

44,000

97

Incarnation of Angel
Billboard: Satan Morroc

102,700

300,820

97

Incarnation of Demon




Billboard: Satan Morroc

112,000

360,000

96

Incarnation of Human
Billboard: Satan Morroc

84,000

190,000

99

Incarnation of Ghost




Billboard: Satan Morroc

102,000

140,000

100

Nightmare Minorous




Billboard: Nightmare Pyramid

30,002

22,544

100

Nightmare Mummy




Billboard: Nightmare Pyramid

25,904

19,974

101

Nightmare Verit




Billboard: Nightmare Pyramid

23,712

18,598

102

Nightmare Mimic




Billboard: Nightmare Pyramid

49,270

34,628

101

Nightmare Arclouse




Billboard: Nightmare Pyramid

39,880

19,738

103

Nightmare Ancient Mummy




Billboard: Nightmare Pyramid

64,110

45,186
------------------------------------------------------------------
▪ Ragnarok Website :: https://roextreme.com/msp
▪ Download the game :: https://exe.in.th/msp-client-download
▪ Forums :: https://prontera.net/
▪ RO MSP Community :: fb.com/groups/ROMSPOfficial/