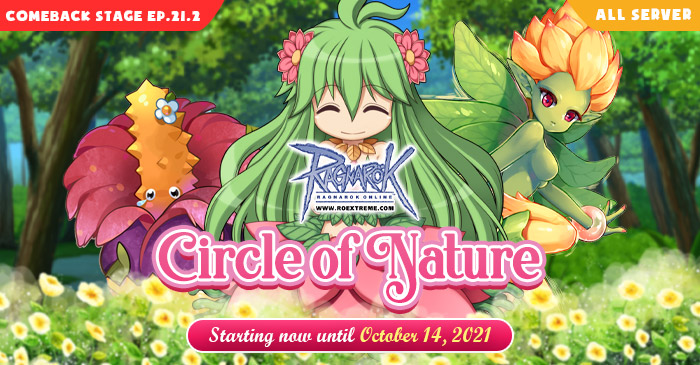 Meet our comeback stage challenge "Circle of Nature" that will give you double experience points when hunted down.

Available for all servers - Valhalla and Yggdrasil




Tip


Some event monsters and billboard missions are the same.
Before hunting, don't forget to receive the billboard missions
and get more EXP!. Find out more: Click!


Event starts on: September 23, 2021 (After the Maintenance)
Event ends on: October 14, 2021 (Before the Maintenance)

Increase respawn rate for the specific monsters within the event!

Obtain x2 EXP

when you defeat any monsters

in the list below.

Some monsters have never existed on Yggdrasil servers before. Please be careful!

Talk to NPC Tiffany to get a free teleport to the event map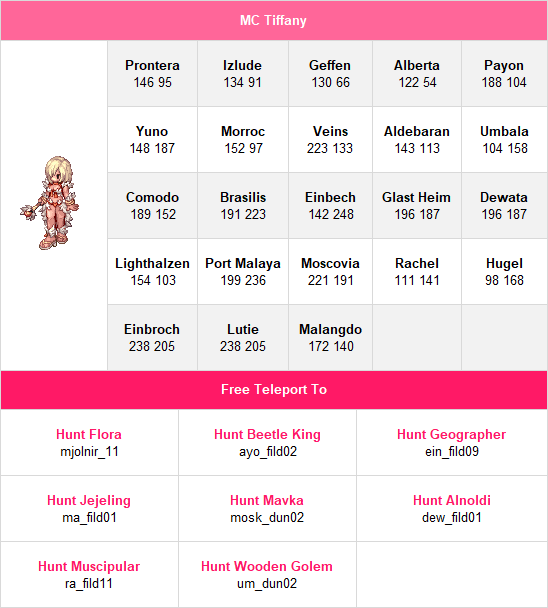 Suggestion Map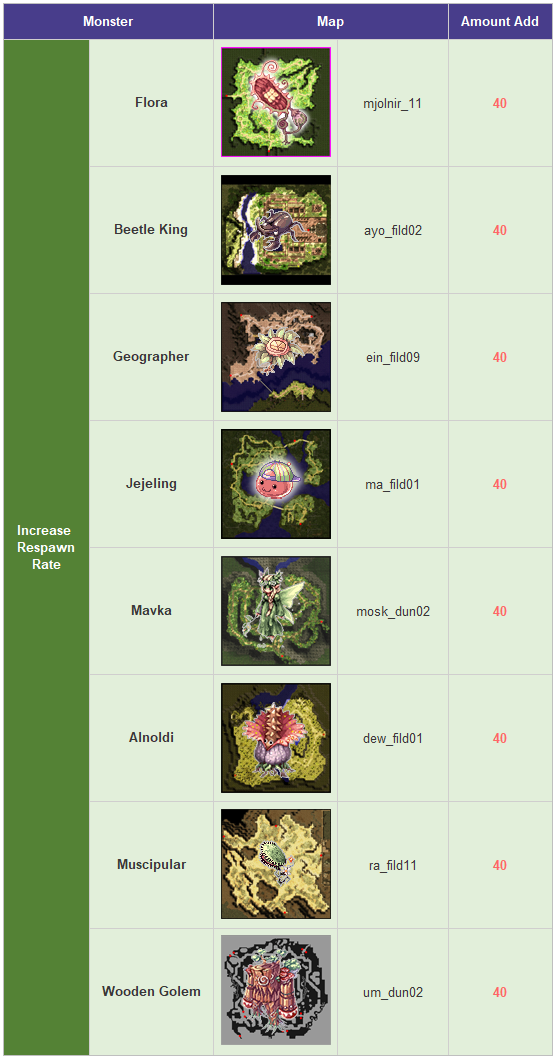 Tiffany Quest *for LV30+ only*
can be redone every 3 hours.
(Obtain the quest from NPC MC Tiffany)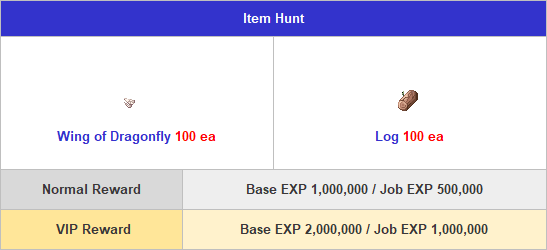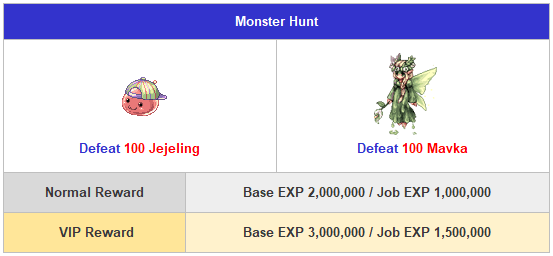 *Players that are unable to receive quests,
please delete the daily quest from comeback stage previous episode
with MC Tiffany and talk to receive the quest again.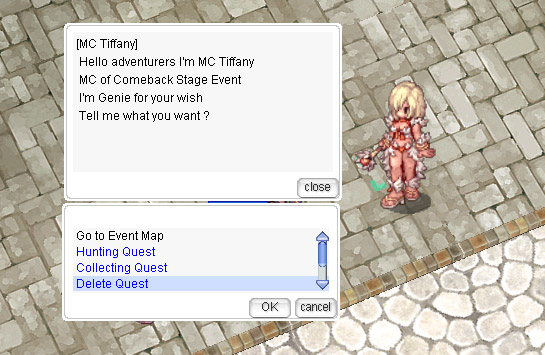 Tiffany Quest walkthrough: Click
Defeat these monsters and get Double EXP!
Level

Monster

X2




Base EXP

X2




Job EXP

21

Marina




Billboard: Izlude

436

280

21

Dustiness

436

280

22

Metaller

482

304

24

Scorpion

574

352

25

Argos




Billboard: Prontera

776

376

26

Mantis




Billboard: Prontera

786

496

26

Flora




Billboard: Prontera

714

452

28

Marine Sphere

922

568

32

Tri Joint

772

440

34

Beetle King




Billboard: Ayothaya

1,358

884

40

Stem Worm




Billboard: Al De Baran

2,904

1,878

41

Argiope




Billboard: Prontera

3,594

1,698

42

Stone Shooter




Billboard: Umbala

2,476

1,504

42

Hunter Fly




Billboard: Prontera

3,034

1,904

43

Punk




Billboard: Al De Baran

3,398

2,066

46

Brilight




Billboard: Glast Heim

3,652

2,662

46

Drosera




Billboard: Veins

5,224

2,044

46

Hermit Plant




Billboard: Gonryun

2,076

1,384

49

Parasite




Billboard: Umbala

2,196

2,906

50

Dryad




Billboard: Umbala

5,526

2,986

53

Wood Goblin




Billboard: Moscovia

4,802

3,304

53

Enchanted Peach Tree




Billboard: Gonryun

5,182

3,598

55

Giant Spider

12,422

4,292

55

Les




Billboard: Moscovia

5,340

2,424

55

Bloody Butterfly




Billboard: Gonryun

4,238

3,124

56

Geographer




Billboard: Yuno

5,430

4,000

56

Giant Hornet

11,570

4,012

56

Killer Mantis

13,018

4,732

61

Dragon Tail




Billboard: Alberta

7,174

2,906

62

Creamy Fear

14,730

5,382

64

Caterpillar

12,544

6,214

67

Ancient Worm




Billboard: Dewata

16,348

7,564

70

Jejeling




Billboard: Port Malaya

8,400

5,600

79

Mavka




Billboard: Moscivia

16,900

13,938

79

Anopheles




Billboard: Einbroch / Einbech

2,150

3,500

80

Porcellio




Billboard: Einbroch / Einbech

4,400

2,634

80

Alnoldi




Billboard: Dewata

5,000

2,500

85

Iron Fist




Billboard: Umbala

2,034

6,002

87

Muscipular




Billboard: Viens

11,118

7,592

87

Ungoliant

30,860

19,752

88

Pinguicula

9,000

6,440

90

Wooden Golem

14,020

9,022
------------------------------------------------------------------
▪ Ragnarok Website :: https://roextreme.com/msp
▪ Download the game :: https://exe.in.th/msp-client-download
▪ Forums :: https://prontera.net/
▪ RO MSP Community :: fb.com/groups/ROMSPOfficial/