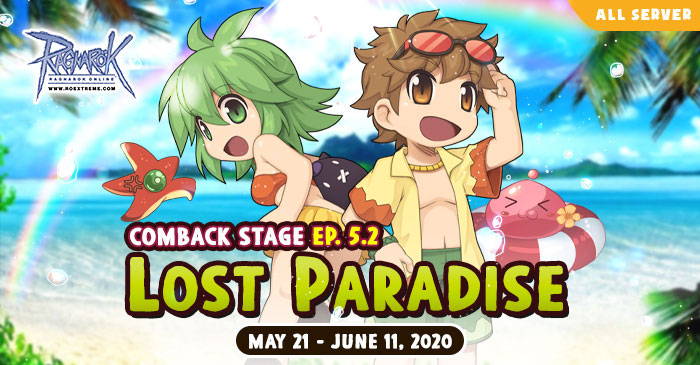 The challengers from Moscovia, Sunken Ship, and Turtle Island will give you double experience points when hunted down. If you are looking for a challenge, head to Moscovia, Sunken Ship, and Turtle Island now!
Available for all servers - Valhalla and Yggdrasil




Tip


Some event monsters and billboard mission are the same.
Before hunting, don't forget to receive the billboard missions and get more EXP!.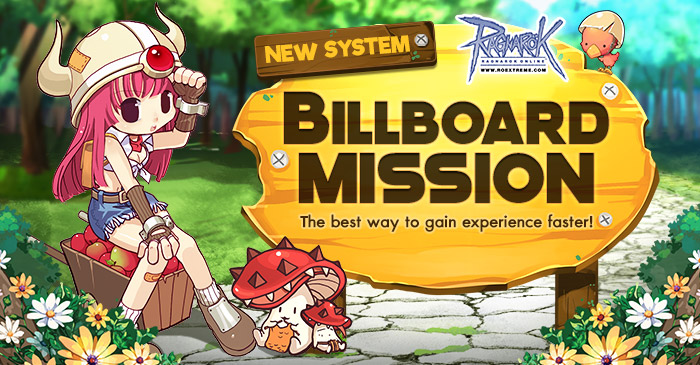 Find out more:
Click!

Event starts on: May 21, 2020 (After the Maintenance)
Event ends on: June 11, 2020 (Before the Maintenance)

Meet a special guest monster within the event!

Obtain x2 EXP

when you defeat any monsters

in the list below.

Some monsters have never existed on Yggdrasil servers before. Please be careful!


Talk to NPC Tiffany to get a free teleport to the event map
NPC

Location

Teleport to


MC Tiffany
She is standing next to NPC Kafra Employee in each town.
Prontera
146 95
Izlude
134 91

Turtle Dungeon F1

Geffen
130 66
Payon
188 104
Alberta
122 54
Aldebaran
143 113
Sunken Ship
Dungeon F1
Morroc
152 97
Umbala
104 158
Comodo
189 152
Yuno
148 187
Moscovia
Dungeon F1
Brasilis
191 223
Moscovia
221 191
Suggestion Field and Dungeon
Monster

Map

Amount Add

Increased
Respawn
Rate
Wood Goblin
mosk_fild02

30

Les
mosk_dun01

30

Uzhas
mosk_dun02

30

Baba Yaga
mosk_dun03

30

Special
Guest
Dark Priest
treasure01

60

Draco
tur_dun01

60
Daily Quest *for LV30+ only*
(Obtain the quest from NPC MC Tiffany)
Monster Hunt

Defeat

120 Drago

Defeat

120 Dark Priest


Reward : Base EXP 1,000,000 / Job EXP 500,000


VIP

EXP 1,200,000 / Job EXP 600,000

Item Hunt

Dragon's Mane 100 ea

Dark Crystal Fragment 100 ea


Reward : Base EXP 500,000 / Job EXP 250,000


VIP

EXP 600,000 / Job EXP 300,000
Daily Quest walkthrough
https://roextreme.com/msp/news/how-to-do-the-daily-quest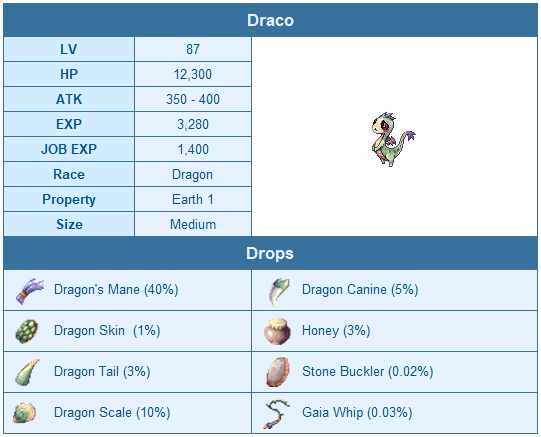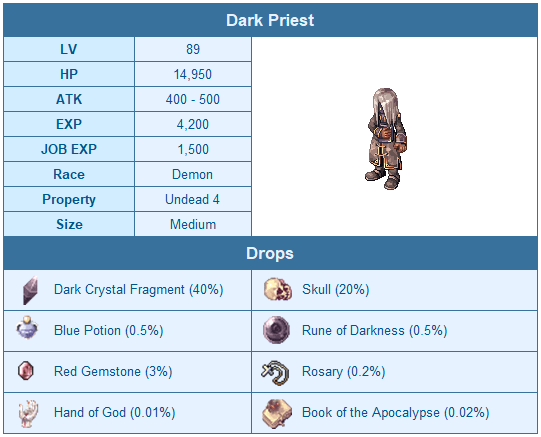 Defeat these monsters and get Double EXP!

Level

Monster

X2




Base EXP

X2




Job EXP

55

Les




*Increased

Respawn Rate




Billboard Monster: Moscovia

5,

340

2,424

53

Wood Goblin




*Increased

Respawn Rate




Billboard Monster: Moscovia

4,802

3

,

304

75

Baba Yaga




*Increased

Respawn Rate




Billboard Monster: Moscovia

8,888

6,666

63

Uzhas




*Increased

Respawn Rate




Billboard Monster: Moscovia

8,484

6,464

79

Mavka




Billboard Monster: Moscovia

16,900

13,938

26

Mantis




Billboard Monster: Prontera




*Special Extra EXP

2,472

1,236

25

Bigfoot




Billboard Monster: Payon

620

376

23

Caramel




Billboard Monster: Prontera

528

324

11

Kukre

76

56

14

Hydra




Billboard Monster: Alberta

118

80

19

Poison Spore

372

186

25

Pirate Skeleton




Billboard Monster: Alberta

466

284

35

Whisper

1,182

1,198

51

Mimic

330

330

57

Penomena

5,740

4,400

74

Wanderer

11,572

9,460

22

Thara Frog




Billboard Monster: Izlude

438

276

40

Pest

2,476

1,504

61

Dragon Tail




Billboard Monster: Alberta

7,174

2,906

58

Spring Rabbit




Billboard Monster: Alberta

7,964

3

,

532

63

Permeter




Billboard Monster: Alberta

7,512

3,910

72

Freezer




Billboard Monster: Alberta

7,330

4,394

71

Assulter




Billboard Monster: Alberta

9,708

5,308

68

Heater




Billboard Monster: Alberta

7,532

4,718

70

Solider




Billboard Monster: Alberta

8,916

3,902

89

Dark Priest




*Special Guest

8,400

3,000

87

Draco




*Special Guest

6,560

2,800
------------------------------------------------------------------
▪ Ragnarok Website :: https://roextreme.com/msp
▪ Download the game :: https://exe.in.th/msp-client-download
▪ Forums :: https://prontera.net/
▪ RO MSP Community :: https://tinyurl.com/ROMSPOfficialComm