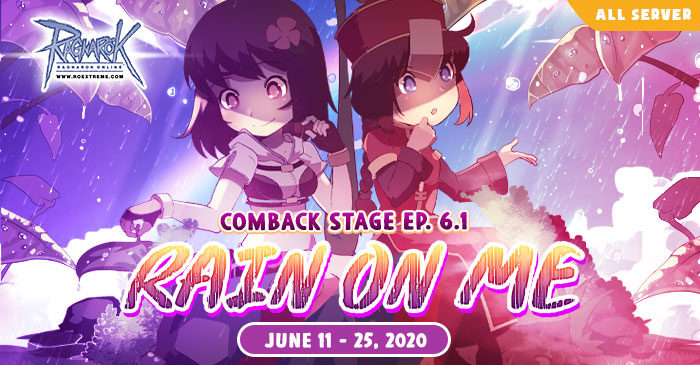 Meet our comeback stage challenge "Rain On Me" that will give you double experience points when hunted down. Starting now until June 25, 2020
Available for all servers - Valhalla and Yggdrasil




Tip


Some event monsters and billboard mission are the same.
Before hunting, don't forget to receive the billboard missions and get more EXP!.
Find out more: Click!


Event starts on: June 11, 2020 (After the Maintenance)
Event ends on: June 25, 2020 (Before the Maintenance)

Meet a special guest monster within the event!

Obtain x2 EXP

when you defeat any monsters

in the list below.

Some monsters have never existed on Yggdrasil servers before. Please be careful!


Talk to NPC Tiffany to get a free teleport to the event map
NPC

Location

Teleport to


MC Tiffany
She is standing next to NPC Kafra Employee in each town.
Prontera
146 95
Izlude
134 91

Labyrinth Forest F2

Geffen
130 66
Payon
188 104

Mjolnir Dead Pit F3

Alberta
122 54
Aldebaran
143 113

Prontera Culvert F4

Morroc
152 97
Umbala
104 158

Glast Heim Dungeon F1

Comodo
189 152
Yuno
148 187

Glast Heim Dungeon F2

Brasilis
191 223
Moscovia
221 191

Glast Heim Staircase Dungeon
Suggestion Dungeon
Monster

Map

Amount Add

Special
Guest
Gajomart
prt_sewb4

50

Killer Mantis
gl_dun02

50

Giant Hornet
gl_step

50

Gullinbursti
gl_dun01

50

Zombie Master
mjo_dun03

50

Creamy Fear
prt_maze02

50
Daily Quest *for LV30+ only*
(Obtain the quest from NPC MC Tiffany)
Monster Hunt

Defeat

100 Giant Hornet

Defeat

100 Zombie Master


Reward : Base EXP 1,000,000 / Job EXP 500,000


VIP

EXP 1,200,000 / Job EXP 600,000

Item Hunt

Stone Heart 50 ea

Mane 50 ea


Reward : Base EXP 500,000 / Job EXP 250,000


VIP

EXP 600,000 / Job EXP 300,000
Daily Quest walkthrough
https://roextreme.com/msp/news/how-to-do-the-daily-quest
Defeat these monsters and get Double EXP!

Purple

Level

Monster

X2




Base EXP

X2




Job EXP

30

Karakasa




Billboard Monster: Amatsu

978

644

38

Verit




Billboard Monster: Morroc

1,670

1,034

43

Punk

3,398

2,066

44

Bathory

5,006

2,068

48

Gargoyle

3,300

3,300

49

Nightmare

3,824

3,824

53

Zombie Prisoner

5,270

3,448

53

Merman


Billboard Monster: Izlude

9,000

6,000

56

Cramp

4,600

3,026

61

Sting

8,162

5,940

62

Creamy Fear




*Special Guest

14,730

5,382

62

Dullahan

9,034

5,926

64

Sohee




Billboard Monster: Payon

1,248

1,338

65

Deleter [Ground]

6,806

4,132

65

Tengu

8,414

5,686

61

Am Mut

15,418

5,380

56

Killer Mantis




*Special Guest

13,018

4,732

56

Giant Hornet




*Special Guest

11,570

4,012

Pink

Level

Monster

X2




Base EXP

X2




Job EXP

18

Aster

244

156

22

Thara Frog
Billboard Monster: Alberta
and Izlude

438

276

31

Obeaune




Billboard Monster: Izlude

1,288

814

47

Isis


Billboard Monster: Morroc

7,418

3,100

52

Raydric

6,820

3,590

52

Raydric Archer

6,050

4,250

55

Bloody Butterfly




Billboard Monster: Gonryun

4,238

3,124

61

Dragon Tail




Billboard Monster: Alberta

7,174

2,906

62

Creamy Fear




*Special Guest

14,730

5,382

62

Zombie Master




*Special Guest

15,220

5,652

62

Gulinbursti




*Special Guest

11,628

4,752

63

Evil Nymph




Billboard Monster: Gonryun

7,890

5,198

63

Gajomart




*Special Guest

13,250

5,800

66

Deleter [Sky]

6,806

4,132

72

Bloody Murderer

19,484

7,118

77

Lava Golem

12,940

7,758

78

Nightmare Terror

13,366

8,718

79

Medusa

Billboard Monster : Comodo

13,752

9,394

80

Headless Mule




Billboard Monster: Brasillis

11,108

6,668
------------------------------------------------------------------
▪ Ragnarok Website :: https://roextreme.com/msp
▪ Download the game :: https://exe.in.th/msp-client-download
▪ Forums :: https://prontera.net/
▪ RO MSP Community :: https://tinyurl.com/ROMSPOfficialComm