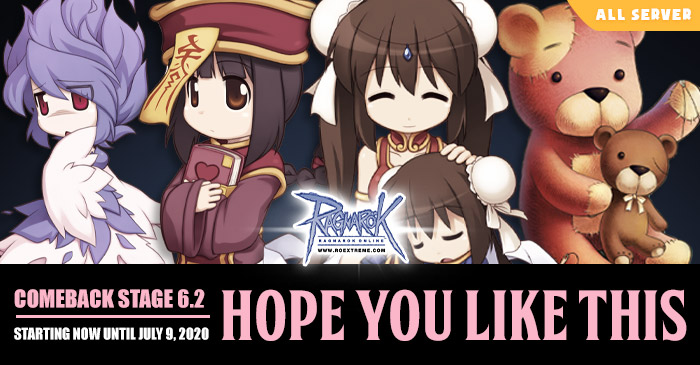 Meet our comeback stage challenge "Hope you like this" that will give you double experience points when hunted down. Starting now until July 9, 2020
Available for all servers - Valhalla and Yggdrasil




Tip


Some event monsters and billboard mission are the same.
Before hunting, don't forget to receive the billboard missions
and get more EXP!. Find out more: Click!


Event starts on: June 25, 2020 (After the Maintenance)
Event ends on: July 9, 2020 (Before the Maintenance)

Meet a special guest monster within the event!

Obtain x2 EXP

when you defeat any monsters

in the list below.

Some monsters have never existed on Yggdrasil servers before. Please be careful!


Talk to NPC Tiffany to get a free teleport to the event map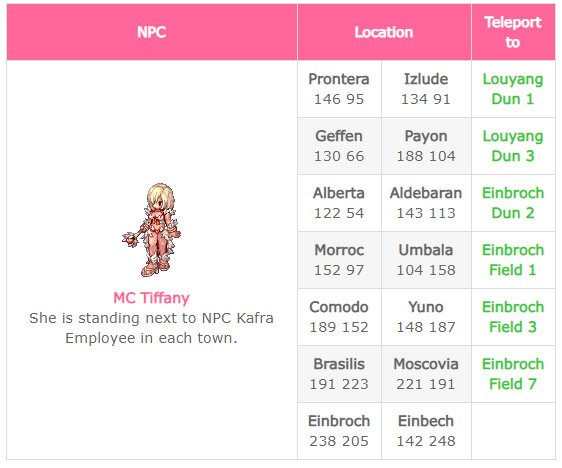 Suggestion Dungeon

Daily Quest *for LV30+ only*
(Obtain the quest from NPC MC Tiffany)
Monster Hunt

Defeat

100 Teddy Bear

Defeat

100 Waste Stove


Reward : Base EXP 1,000,000 / Job EXP 500,000


VIP

EXP 1,200,000 / Job EXP 600,000

Item Hunt

Old White Cloth 50 ea

Clearing Skull 50 ea


Reward : Base EXP 500,000 / Job EXP 250,000


VIP

EXP 600,000 / Job EXP 300,000
Daily Quest walkthrough
https://roextreme.com/msp/news/how-to-do-the-daily-quest
Defeat these monsters and get Double EXP!

Einbroch

Level

Monster

X2




Base EXP

X2




Job EXP

75

Metaling




Billboard: Einbroch or Einbech

5

,

600

3,496

76

Holden




Billboard: Einbroch or Einbech

4,870

2,966

77

Mineral




Billboard: Einbroch or Einbech

7,960

4,880

78

Obsidian




Billboard: Einbroch or Einbech

6,310

3,824

79

Anopheles




Billboard: Einbroch or Einbech

2,150

3,500

80

Porcellio




Billboard: Einbroch or Einbech

4,400

2,634

81

Pitman




Billboard: Einbroch or Einbech

9,194

5,300

82

Waste Stove


Billboard: Einbroch or Einbech

12,000

7

,

250

83

Noxious




Billboard: Einbroch or Einbech

8,006

5,020

84

Venomous




Billboard: Einbroch or Einbech

6,004

7,800

85

Teddy Bear




Billboard: Einbroch or Einbech

8,460

7,198

87

Ungoliant

30,860

19,752

Louyang

Level

Monster

X2




Base EXP

X2




Job EXP

30

Munak




Billboard: Payon

1,202

636

34

Horong


Billboard: Payon

1,572

958

43

Side Winder

3,992

1,986

48

Jing Guai


Billboard Monster: Louyang

3,286

3,286

51

Mimic

330

330

51

Mi Gao




Billboard Monster: Louyang

1,104

884

54

Zhu Po Long




Billboard Monster: Louyang

6,060

1,538

56

Yao Jun




Billboard Monster: Louyang

4,398

2,044

58

Leib Olmai

12,022

4,342

59

Green Maiden




Billboard Monster: Louyang

8,512

1,840

62

Mao Guai




Billboard Monster: Louyang

8,052

5,500

68

Grizzly

6,680

4,024

Nameless (special guest)

Level

Monster

X2




Base EXP

X2




Job EXP

40

Ghoul

2,176

1,244

60

Flame Skull

6,000

5,200

71

Hellhound

8,000

6,000

75

Ragged Zombie

17,000

11,000

77

Zombie Slaughter

24,000

17,000

81

Banshee

34,000

24,000

88

Necromancer

90,000

70,000
------------------------------------------------------------------
▪ Ragnarok Website :: https://roextreme.com/msp
▪ Download the game :: https://exe.in.th/msp-client-download
▪ Forums :: https://prontera.net/
▪ RO MSP Community :: https://tinyurl.com/ROMSPOfficialComm