Money. Power. Respect.


Heard that right, we're old school and we still believe in R E S P E C T
Thinking of hitting one of us? You're actually hitting all of us.
Either you're a somebody or a nobody, think twice on messing with The Gangster.

* Remark: When you already create a party or join a party at the activity's site,
you can go leveling your character without joining the party in the game again.
Wanna be a gangster?
Click this:
https://roextreme.com/msp/news/gangster-howto

• Event Start: 18 December 2019 (After server maintenance)
• Event End: 29 January 2020 (Before server maintenance)
• Last day of reward redemption: 29 January 2020 (Before server maintenance)
Note: Players are prohibited to manage a party on 27th January 2020, 00:01 PHT

1. You must log in to the webpage and choose your server to create / join the party.
Party setting system
● Once you're in the page, click the button "Create a party" and place the name of your choice.
Click OK to receive the member retrieval code.
● Add your friends up through the "Party entry system" by clicking the button "Enter the party"
then enter the code you have received.
● Have your party leader confirm on his side for you to enter the party.
(Each party can have a total of 12 mobsters.)
2. Get your teammate reach the top-most levels to unlock prizes in the registered website.
3. Once you have finished the mission, you may redeem your prizes through the website.
Prizes will be divided into 2 conditions
Single Reward - Can be gained at a specified level and with 4 or more members
Group Rewards - Can be collected at the specified level.
The party should have 4 or more members and 4 levels.


1. Available for all servers - Valhalla and Yggdrasil
(Party and members should be within a single server)
2. Only new characters created during the event period may participate.
Click me for the other details.
3. Each party must have a minimum of 4 characters and a maximum of 12 players.
4. When you're creating or joining a party via the website,
you can level separately even if you're not affiliated within the party.
5. Rewards will be unlocked when your character reaches the certain condition.
Goodies can be redeemed through the website.
6. After the 27th of January 2020, 00:01 PHT,
players are prohibited to manage their party including
- Players would not be able to leave the current party
- Kick / Delete / Accept system for the party leaders will be disabled.

Warning: Please avoid deleting characters when joining and during the event period to avoid problems during the process.



For group rewards player must have at least 4 members in a party and would need to reach level 99 to get the rewards.

Ex. In a party, there are players A B C D E F G. A, B, C, and D Players are level 99
but E, F, and G did not reach level 99 yet.

Only A, B, C, and D players can achieve the reward for level 99 while the others
need to reach level 99 to get the reward.


When all members in the party can reach the level condition.
Players may receive the reward in the page.
Group Party - At least 4 members and a maximum of 12 members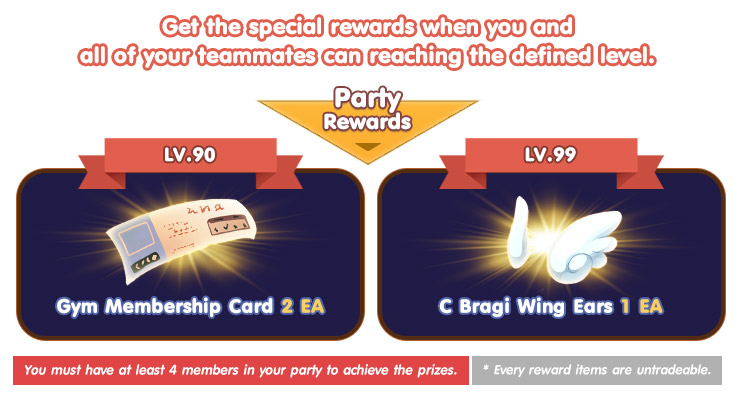 Thinking of hitting one of us?
You're actually hitting all of us.
Join us, loyalty and respect will be earned.
Wanna be a gangster?
Click this:
https://roextreme.com/msp/news/gangster-howto
------------------------------------------------------------------
▪ Ragnarok Website :: https://roextreme.com/msp
▪ Download the game :: https://tinyurl.com/playYggdrasil
▪ Forums :: https://prontera.net/
▪ RO MSP Community :: https://tinyurl.com/ROMSPOfficialComm