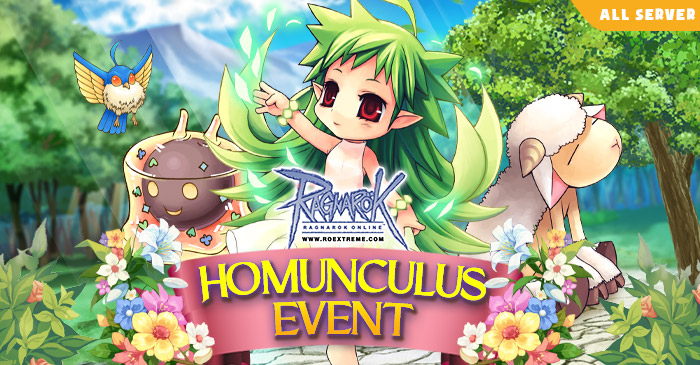 Meet the special event "Homunculus Event" get an item that allows you to use all of the skills for create a Homunculus without to do the quest. Starting now until November 26, 2020.
Available for all servers - Valhalla and Yggdrasil


Event starts on: November 12, 2020 (After the Maintenance)
Event ends on: November 26, 2020 (Before the Maintenance)

A character must be Alchemist or Biochemist with level 50 or higher.
Talk with Sexy Scientist at Eden Group (43, 94)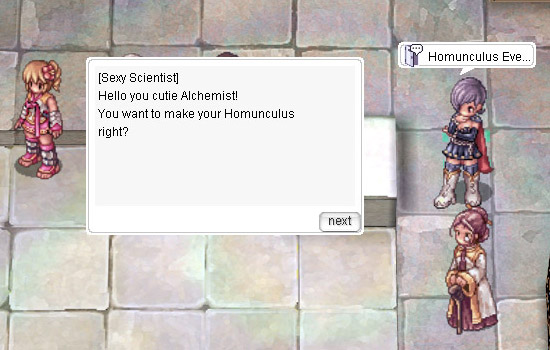 1 Character can receive this item only 1 time.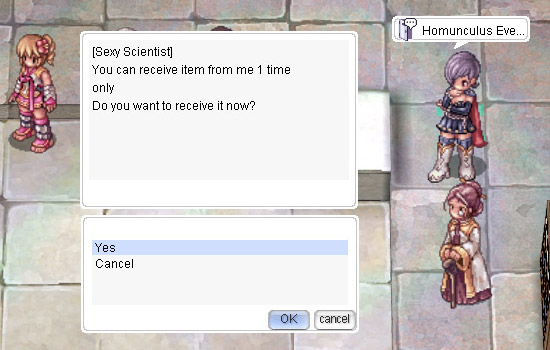 Pay 1,000,000 Zeny, she will give Bioethics Device 1 ea and Embryo 1 ea.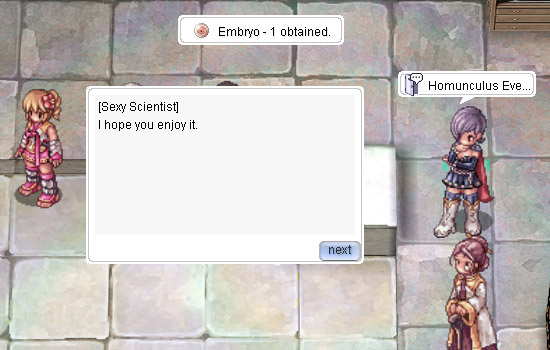 When you equip Bioethics Device, you can use the skill as follow.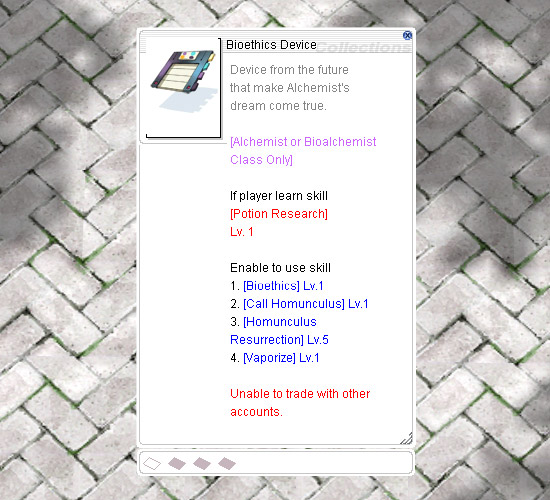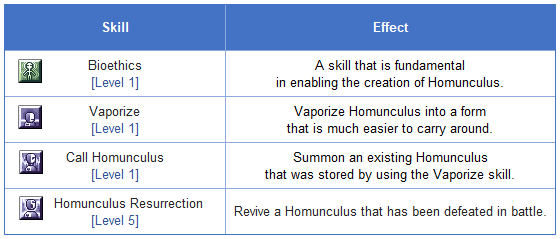 Warning
•After the event end, Bioethics Device still remain, but all of the skill will be disable. It will enable again when the event runs.
Use skill Call Homunculus with Embryo to call Homunculus.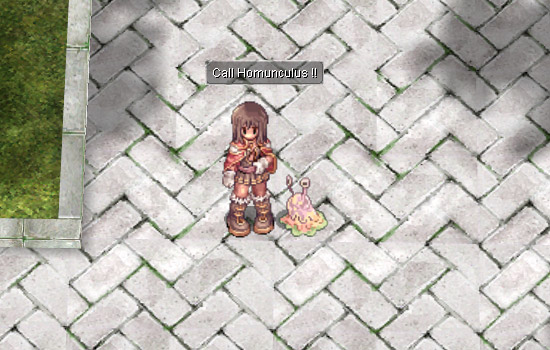 After use skill Call Homunculus you will randomly get Homunculus as follow.
Lif




Cute Version

Lif




Sexy Version

Amistr




Cute Version

Amistr




Sexy Version

Filir




Cute Version

Filir




Sexy Version

Vanilmirth




Cute Version

Vanilmirth




Sexy Version
If you not satisfied, you can delete it for random new Homunculus.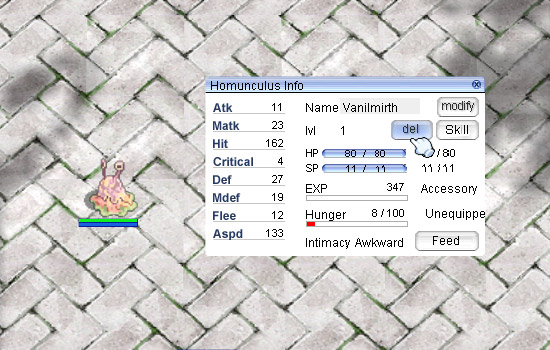 Warning
• After you have deleted, you cannot call the homunculus that was deleted again and all of the intimacy will be removed.
• For random new Homunculus, you will need embryo 1 ea.

Get free from Sexy Scientist at Eden Group 43, 94 (Only 1 time per character)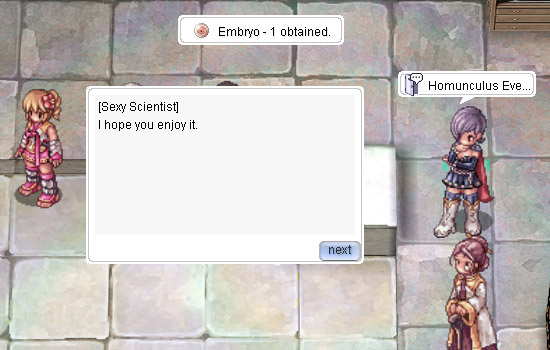 Using the skill Prepare Potion to create an embryo. (Only during the event period)
Character must equip "Bioethics Device" while create Embryo.
You can buy the material at Alchemist Guild (Al De Baran)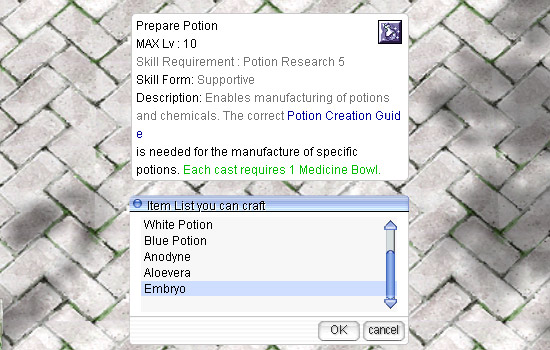 Buy from Kafra Shop 450 KP per piece.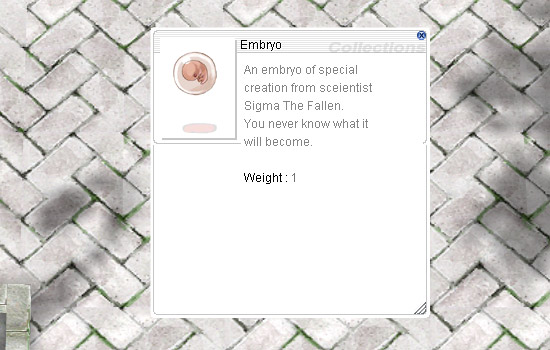 Every 60 seconds the Homunculus loses 1 Hunger Point.
Feed the Homunculus when its hunger is between 11~25 to get 1 full point of intimacy.
Feeding at the other times will give less than a full point and may even reduce intimacy.
If one forgets to feed the Homunculus, its intimacy will decrease, and it will leave the master if it goes below zero intimacy.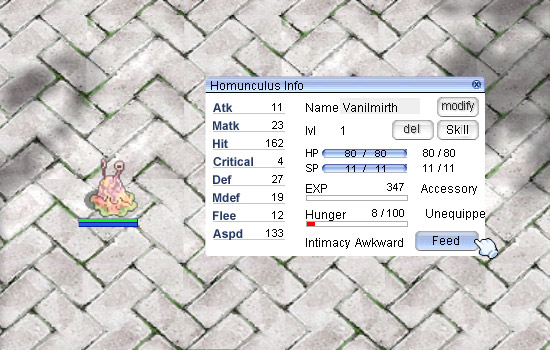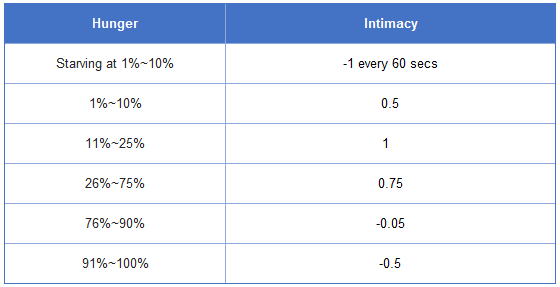 Intimacy is crucial for evolution.
Intimacy points will show in the Homunculus window.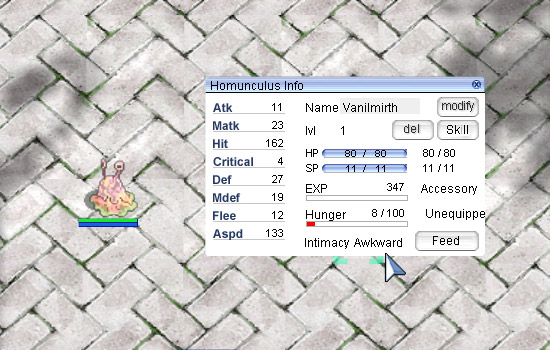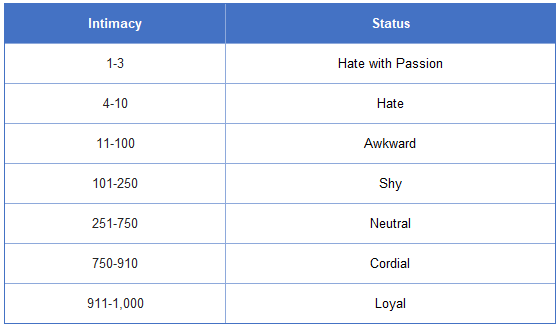 Intimacy level will be decreased by 2 cases
• Use Ultimate Skill (Skill from Evolved Homan).
• Forget to feed Homunculus until its hunger level down to 1.

When the Homunculus's intimacy is Loyal, use Stone of Sage (simply double click it) to evolve it.

After evolving, the Homunculus' intimacy resets to 10 (Hate). Once its intimacy reaches 910 (1 point before Loyal intimacy) again, a fourth, new skill is unlocked.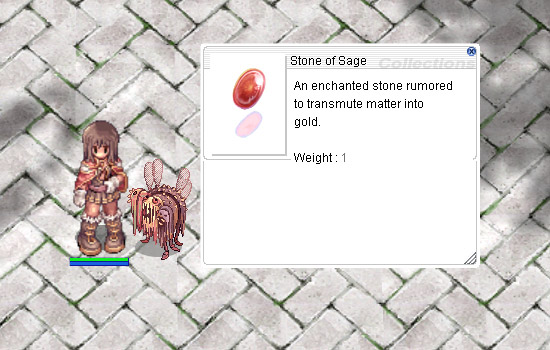 Stone of Sage is dropped by Gemini-S58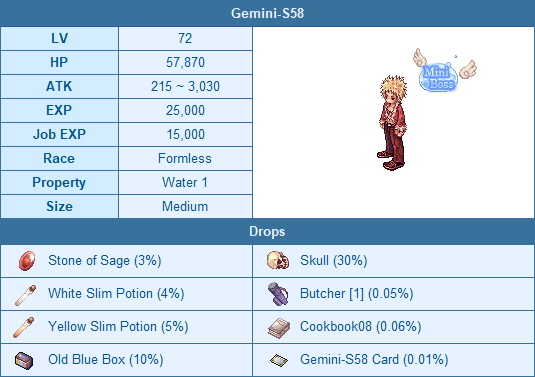 ------------------------------------------------------------------
▪ Ragnarok Website :: https://roextreme.com/msp
▪ Download the game :: https://exe.in.th/msp-client-download
▪ Forums :: https://prontera.net/
▪ RO MSP Community :: fb.com/groups/ROMSPOfficial/