​​​​​​ How to do the Tiffany Quest
Tiffany's Quest requires character level 30 or more.
Tiffany's Quest can be redone every 3 hours.
When the event is expired, if you still have Daily Quests, the quest will be deleted.
If players are VIP, after finished Daily Quest, you will receive EXP 20% more from normal.

Talk with NPC MC Tiffany for accepting quest. She stands in many cities in location as following.
MC Tiffany


She is standing next to NPC Kafra Employee in each town.

Location

Prontera
146 95
Izlude
134 91
Geffen
130 66
Alberta
122 54
Payon
188 104
Aldebaran
143 113
Morroc
152 97
Umbala
104 158
Comodo
189 152
Yuno
148 187
Brasilis
191 223
Moscovia
221 191
Einbroch
238 205
Einbech
142 248
Glast Heim
196 187
Dewata
196 187
Lutie
238 205
Tips
• If player have buff that is related to EXP amount such as Field Manual,
HE Battle Manual, VIP Buff, and including EXP* from the game server,
you will get extra EXP bonus as their rate.

The quest is divided into 2 categories as follows.
- Hunting Monster
- Collecting Item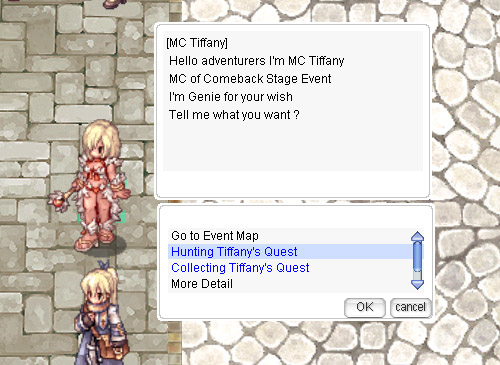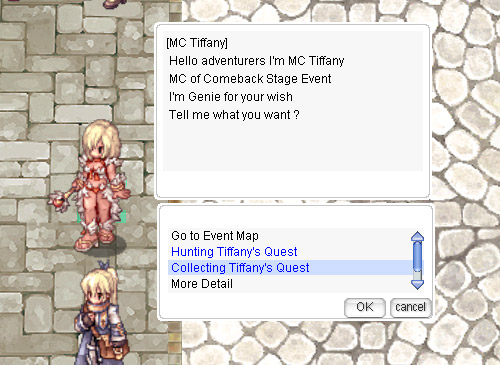 Select the quest that you want then choose "Accept Quest". (can be accepted both)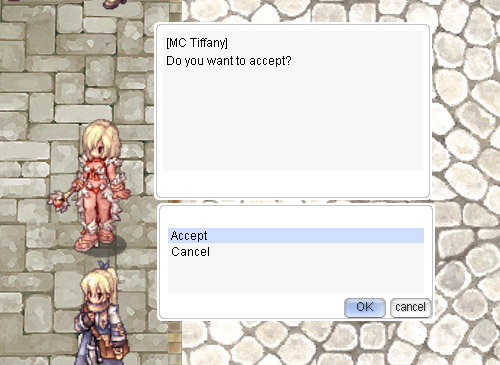 After accepting the quest, you can warp to event location instantly by choosing "Go to Event Map" and then she will warp you to the event location for free.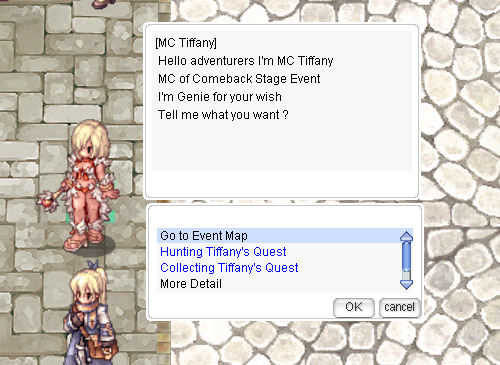 When you complete the quest, talking with NPC MC Tiffany again and choose "Collecting Rewards" for receiving reward.

Normal players will get EXP 1,000,000 and Job EXP 500,000.
VIP Member will get EXP 1,200,000 and Job EXP 600,000 (Extra by 20%)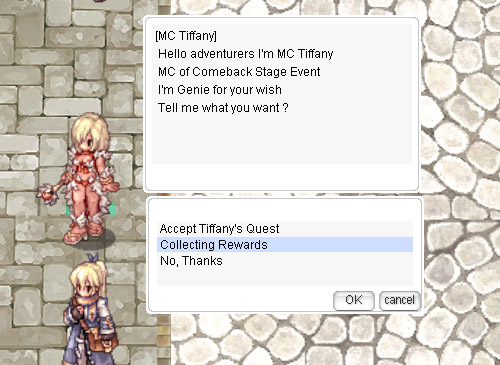 You can check detail for VIP here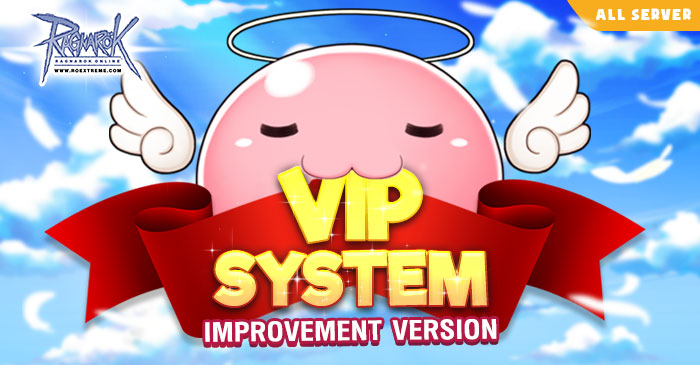 https://roextreme.com/msp/news/introducing-the-vip-system

▪ Ragnarok Website:: https://roextreme.com/msp
▪ Download the game:: https://exe.in.th/msp-client-download
▪ Forums:: https://prontera.net/
▪ RO MSP Community:: https://tinyurl.com/ROMSPOfficialComm