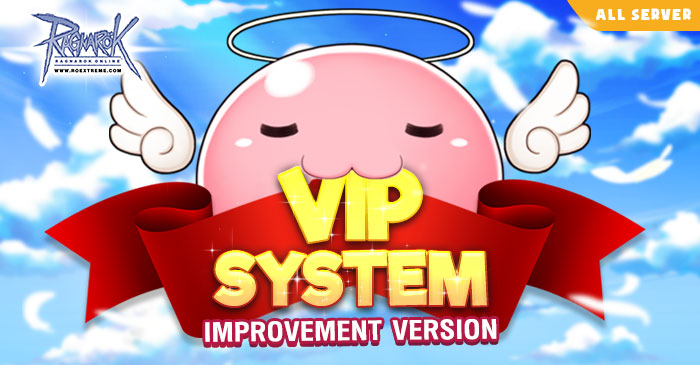 Improve your gaming experience, strategies, tactics, and receive special services when you purchase the Ragnarok Online VIP card!

Available for all servers - Valhalla and Yggdrasil

Here are some changes and updates in the improvement version.


Added new VIP 15 Days Box.
Added new service.
Added new privilege.

Adjusted VIP Box's price.
Adjusted service cost at the same price for both servers. (Valhalla, Yggdrasil)

Item

Price




[Untradeable]


1,500 KP
1,390 KP


[Tradable]

2,490 KP



[Untradeable]


5,000 KP
3,990 KP
Get the VIP Service at NPC VIP Employee.
NPC

Location


NPC VIP Employee
Prontera
148 92
Izlude
133 94
Geffen
122 61
Payon
184 103
Alberta
121 58
Aldebaran
141 117
Morroc
154 96
Umbala
89 158
Comodo
200 149
Yuno
150 186
Brasilis
196 220
Moscovia
225 190
Einbroch
244 204
Einbech
136 246
Luties
148 136
Dewata
200 183
Glastheim
191 292
Hugel
96 168

Buff Service for 30 minutes (3,000 Zeny)
- All Status + 10.
(cannot be used in conjunction with different types of status food due to showing overlapping results)
- Increase Exp / Job Exp 10% and Drop Rate 20%
- Reducing physical and magic damage by 3%.
- Heal service to maximize HP and SP.
*Note: Buff will be removed once your character dies.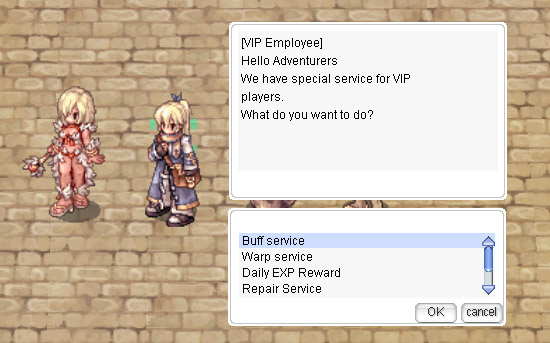 Warp to all town and dungeon (Service Rates below)
- Main Town 1,500 Zeny
- Additional Town 2,000 Zeny
- Global Town 4,500 Zeny
- North Town 3,500 Zeny
- Dungeons 4,000 Zeny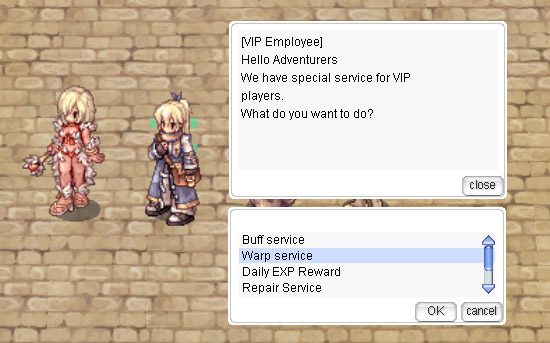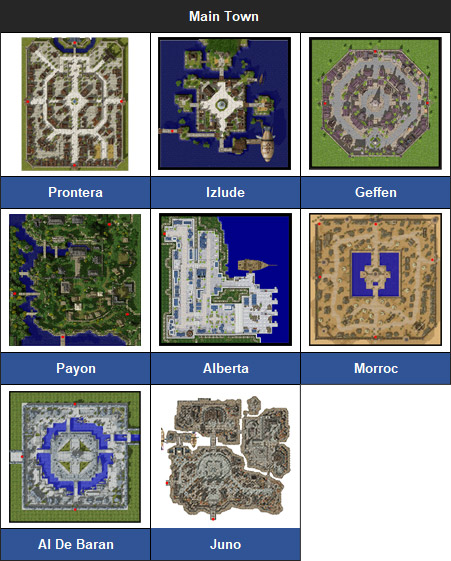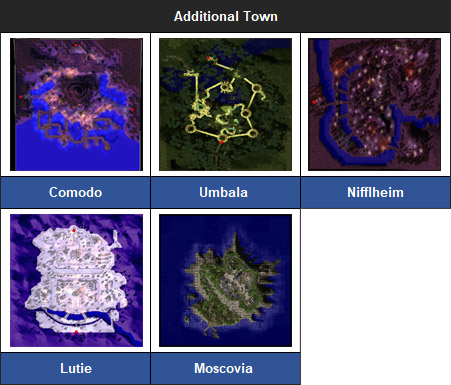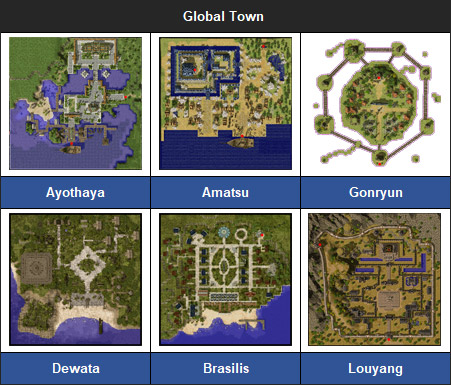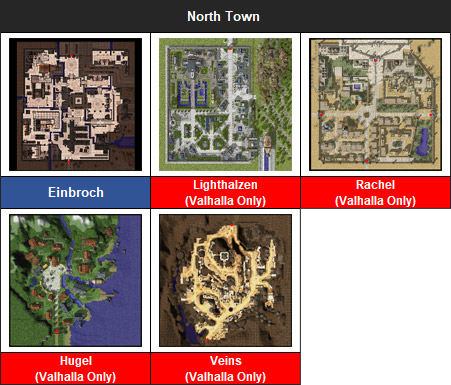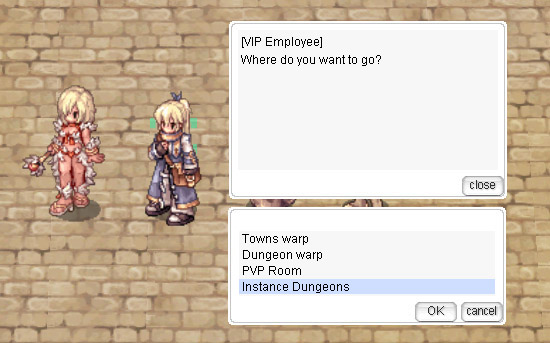 Added Repair Weapon and Equipment service.
The repair service cost is 5,000 Zeny per piece.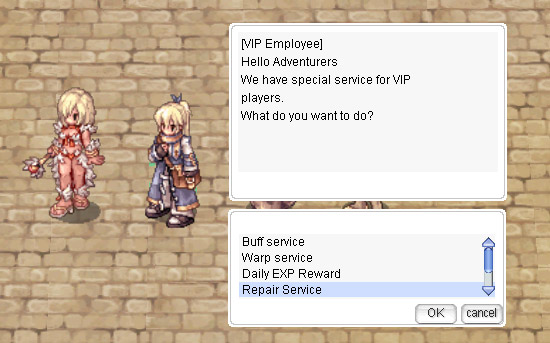 Warp to PVP Room (1,000 Zeny)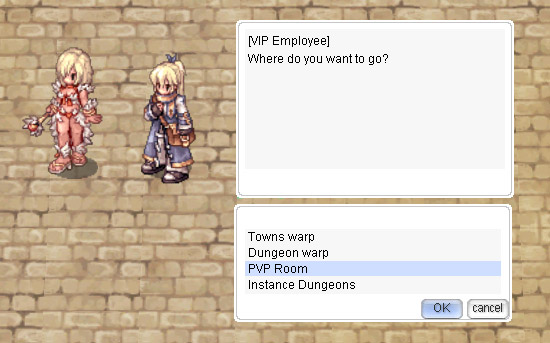 Added WOE Castles VIP Warp Service. (3,000 Zeny)
- Al De Baran (Luina Guild)
- Prontera (Valkyrie Realm Guild)
- Geffen (Britoniah Guild)
- Payon (Greenwood Lake Guild)
- Rachel (Arunafeltz Guild)
- Juno (Schwaltzvalt Guild)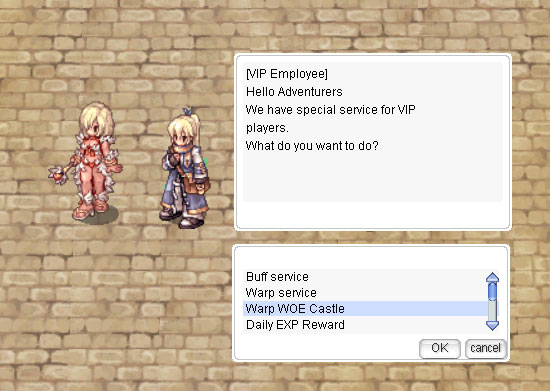 Added Thanatos Tower VIP Warp Service. (4,000 Zeny)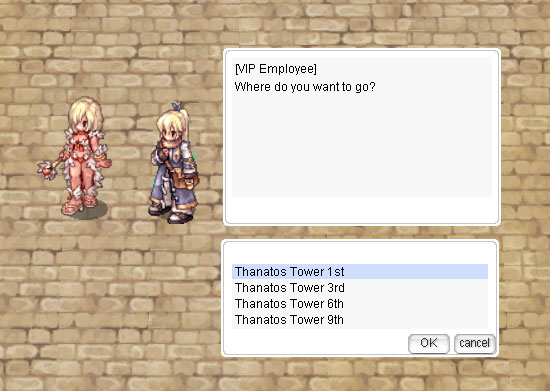 Receive Base EXP 500,000 and Job EXP 250,000 every day.
You can receive the EXP once per day. (can receive again after 5 a.m., UTC+8)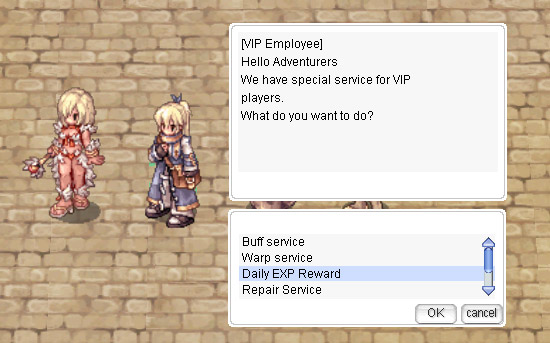 Learning 1st Class Platinum Skill instantly without quest required.
You can learn each platinum skill one time. (According to the job)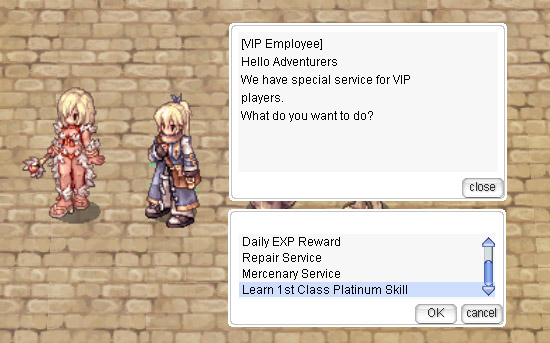 Free 8th Grade Bowman Mercenary Scroll 5 ea per day.
You can receive the item once per day. (can receive again after 5 a.m., UTC+8)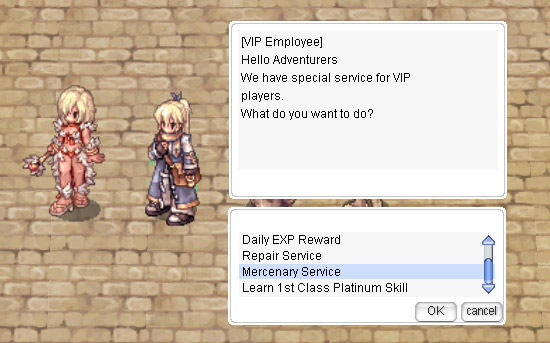 This item is untradeable and can not be placed in Kafra storage.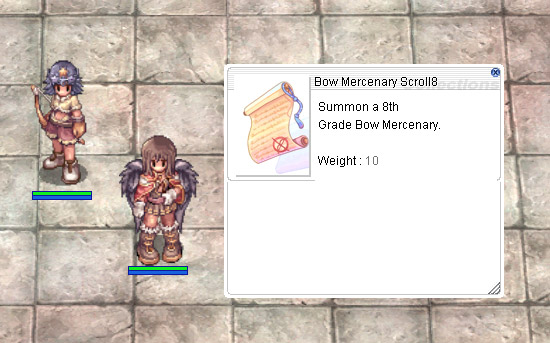 When you have opened the VIP box, you will receive a VIP's Kards for exchange VIP reward.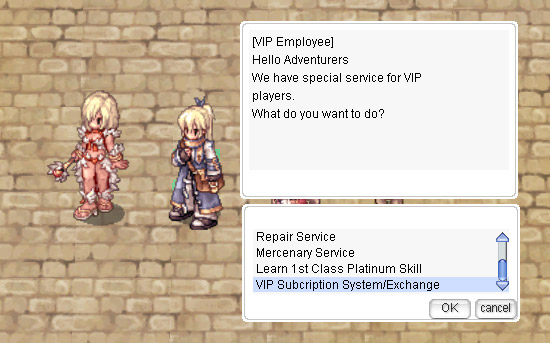 VIP Kards is untradeable but can be placed in Kafra storage.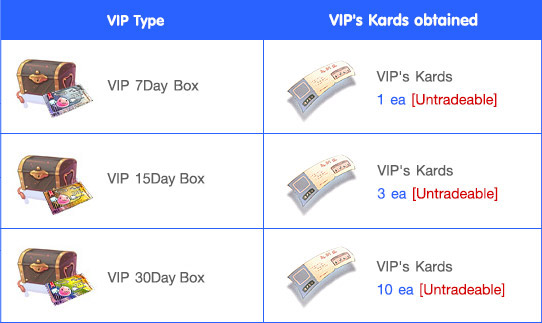 Collect the VIP's Kard and exchange for your reward.


Kard
Required

Reward

Amount

2



[Untradeable]

1 ea
2



[Untradeable]

1 ea
3




[Untradeable]

1 ea
3




[Untradeable]

1 ea
10




[Untradeable]

5 ea
20



[Untradeable]

1 ea
20



[Untradeable]

1 ea
30



[Untradeable]

1 ea
50



[Untradeable]

1 ea
70



[Untradeable]

1 ea
120

[Tradable]
1 ea
120

[Tradable]
1 ea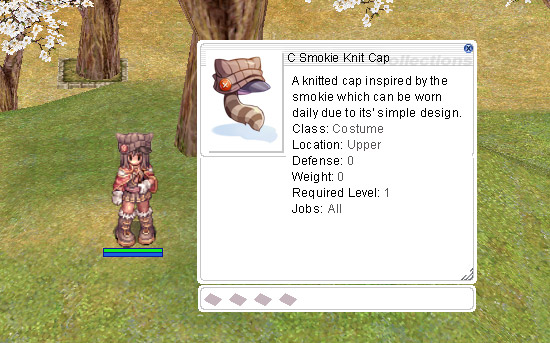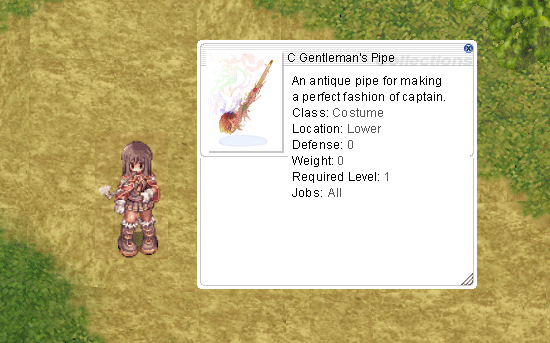 ------------------------------------------------------------------
▪ Ragnarok Website :: https://roextreme.com/msp
▪ Download the game :: https://exe.in.th/msp-client-download
▪ Forums :: https://prontera.net/
▪ RO MSP Community :: https://exe.in.th/ROMSPOfficialComm