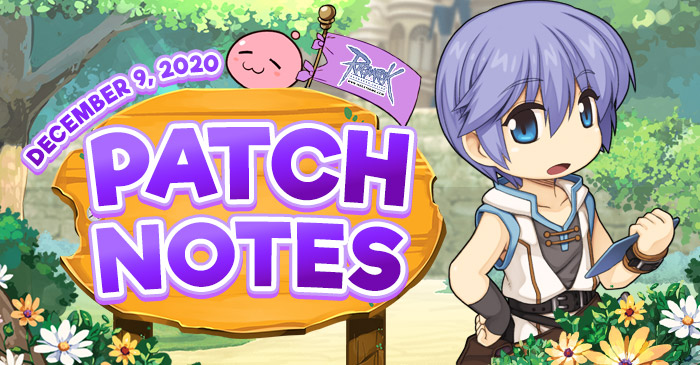 Here are some changes and updates after the server maintenance on December 9, 2020
We are as excited as you are! With these updates, it will help you create more exciting journeys, explore the game with its improvements, and get more items as you traverse in the world of Ragnarok!

| | |
| --- | --- |
| Event and Promotion | Will end on |
| | Dec 17, 2020 |
| | Dec 17, 2020 |
| | Dec 17, 2020 |
| | Dec 24, 2020 |
| | Dec 24, 2020 |
| | Dec 24, 2020 |
| | Dec 31, 2021 |
| | Jan 7, 2021 |
| | Jan 7, 2021 |
Important Note
In this week, we have updated new system
which will affect description of items.
It might show missing description, card slot, item name, etc wrong.
If you found that items show item information wrong,
please contact our CS team for correcting it.
https://support.extreme.game/
---------------------------------------------------------------------------------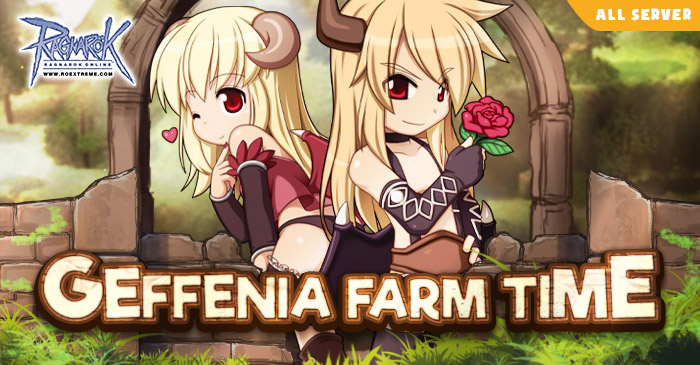 Due to the total donation from test your luck event
reaches 2,000,000,000 zeny,
Geffenia Farm Time event will be coming on December 30, 2020.
but in the same week, the drop rate booster from Friday Night Event will not running for keep balanced in-game economy.
---------------------------------------------------------------------------------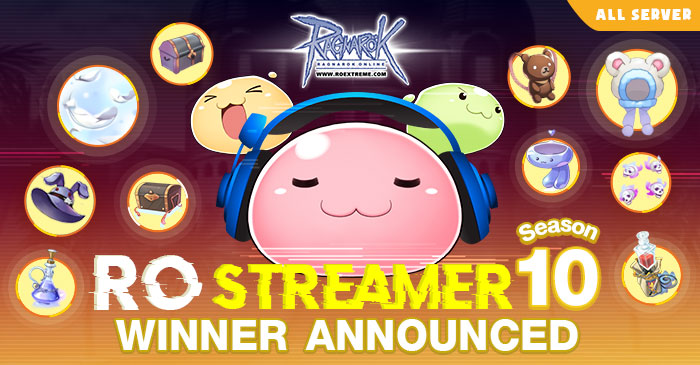 The winner of the first week will be revealed
and the reward will be sent on December 14, 2020.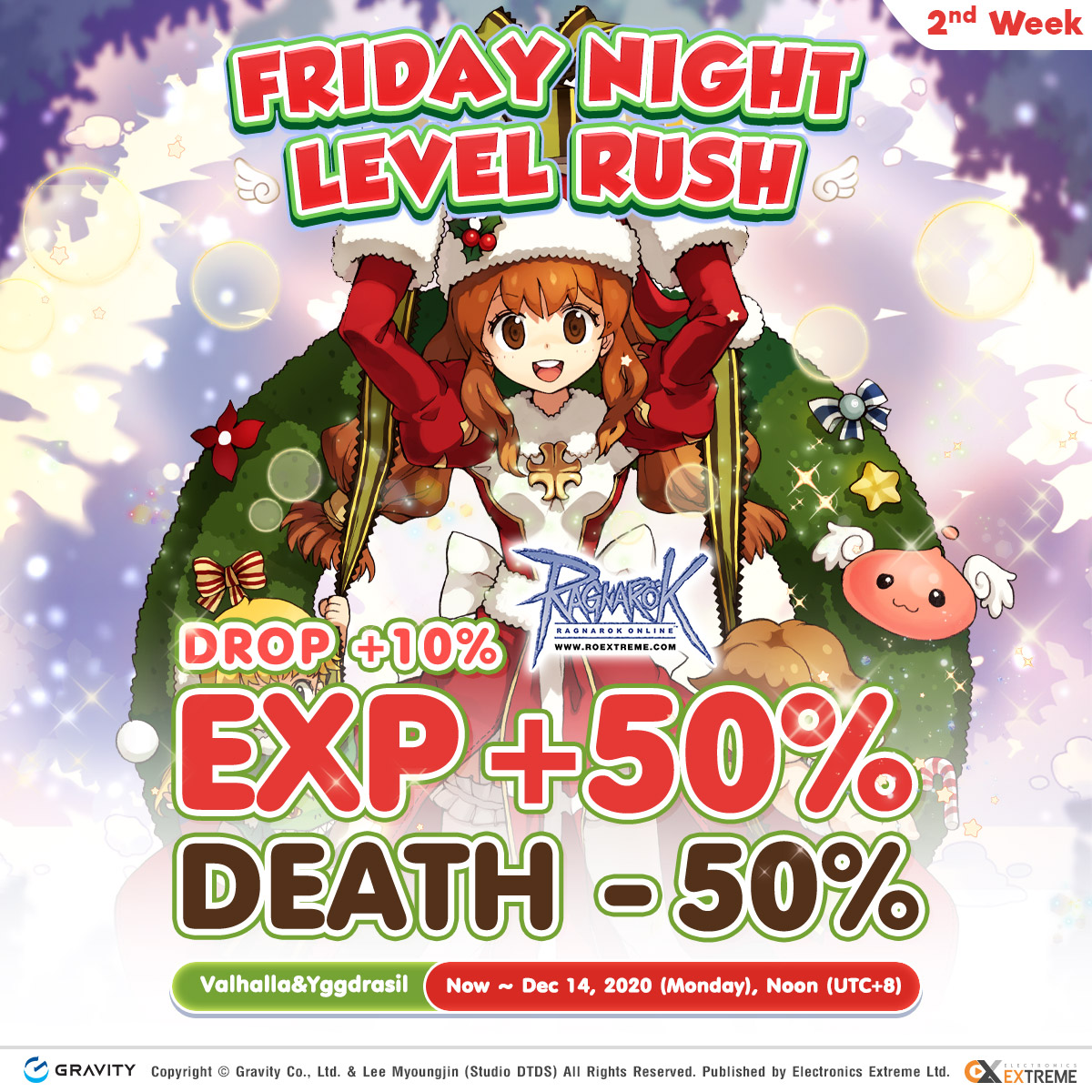 [ALL] In-game Improvement


New additions features and in-game improvements which will benefit users! These updates bring a new Sakura Prontera, Expand vending price, and Light Pillar System. Hopefully, you are excited to try out the new features that the update is bringing.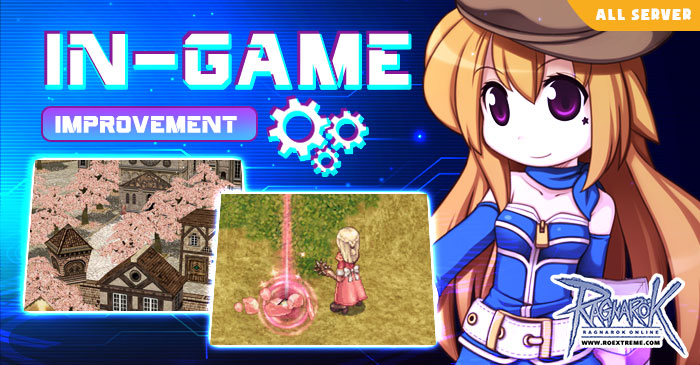 Find out more: Click!
[All] God's Item | Added C God's Majestic Enchant Service


God's Power is released. Simplify the process of making a legendary weapon "God Item" without to do quests, just collecting materials from guild castle treasure box to make it.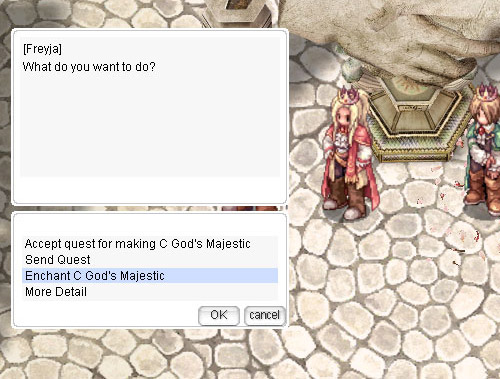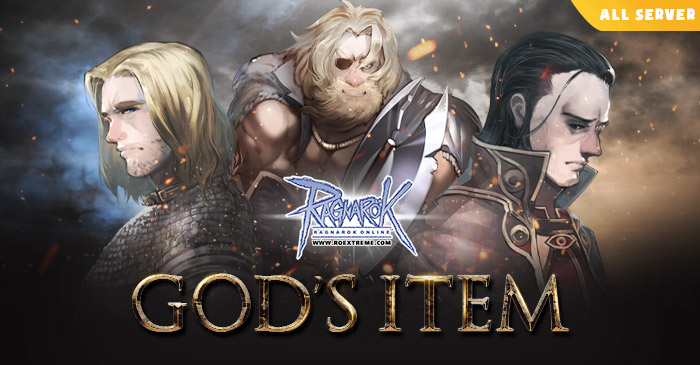 Find out more: Click!


Temporary blocked Odin's Power Skill in WOE1 and WOE2 Map to fix the bug issue.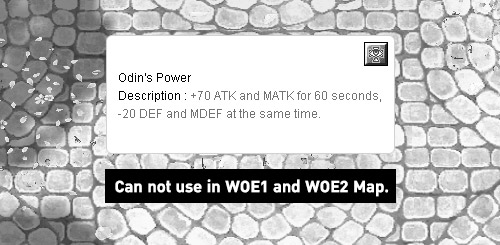 Adjusted Green Cube Ribbon can be thrown away.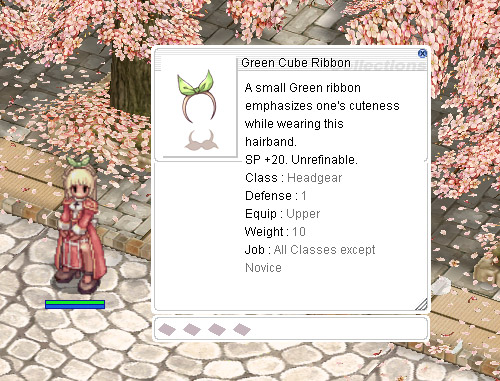 Adjusted Medal / Valorous Weapon / Brave Weapon can be placed in kafra storage.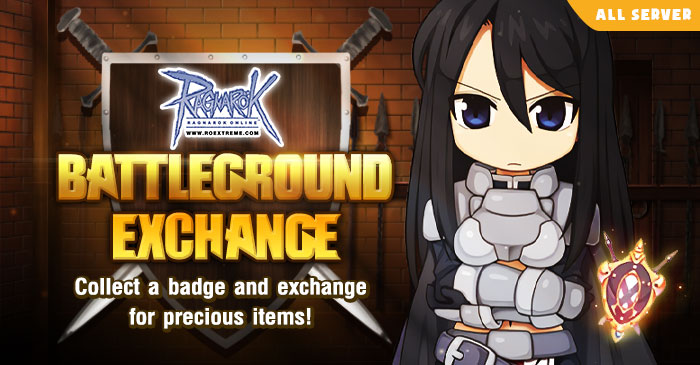 Find out more: Click!
Adjusted camera angle for a wider view on all maps.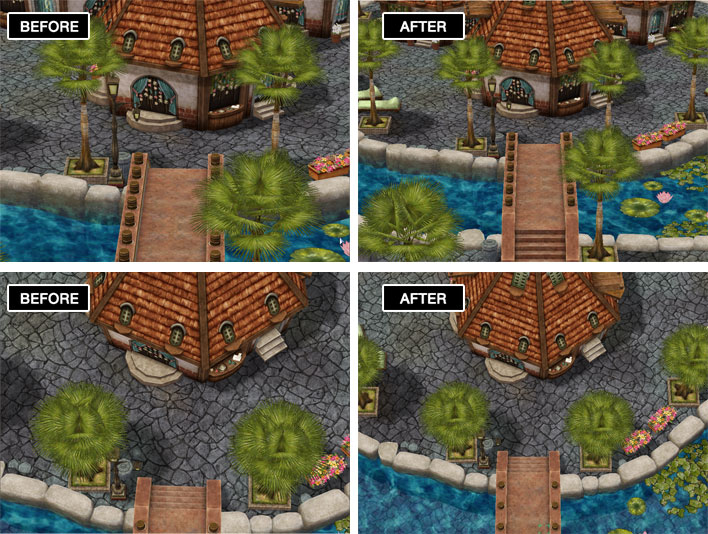 Changed Loading Screen. (Artwork from Loading Screen Contest Season 2)

---

[All] Endless Tower Event

(Extended to December 17, 2020)
A huge tower that is so tall, it scraped the sky. It stands on a small patch of land known as the Misty Island. The Endless Tower is an increasingly difficult set of challenges. Participating parties make their way up the 100th-floor tower, with a special boss encounter.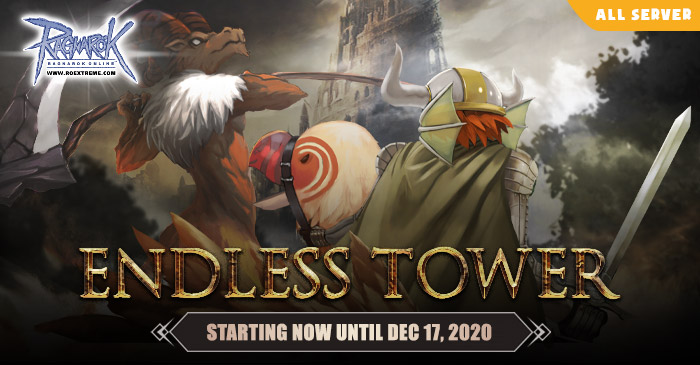 Find out more: Click!
---

The rewards have already been sent
to all of the winners through Rodex.

[Winners] Low-Cost Cosplay |Haunted Halloween


It's time to announce the winners of the ROMSP Low-Cost Cosplay "Haunted Halloween" First of all, we greatly appreciate all players who participate in this. There were a lot of creative pieces of art entered into the contest. It was a blast going through all of the entries, and it proved difficult to pick just a handful of winners but the results are finally in!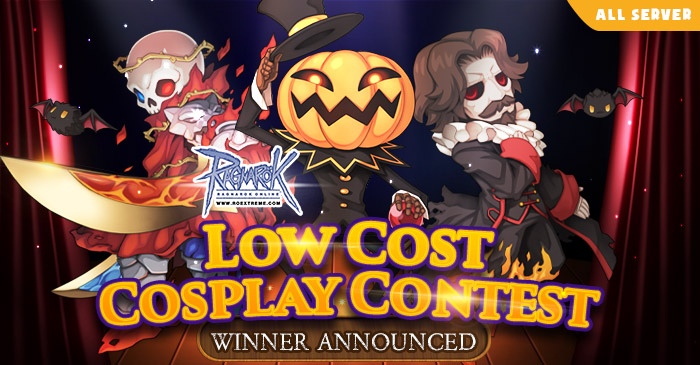 Find out more: Click!
[Winners] Hide&Seek |December 4, 2020


Congratulations to all players who win the prizes from our "Hide and Seek!" event from the last week.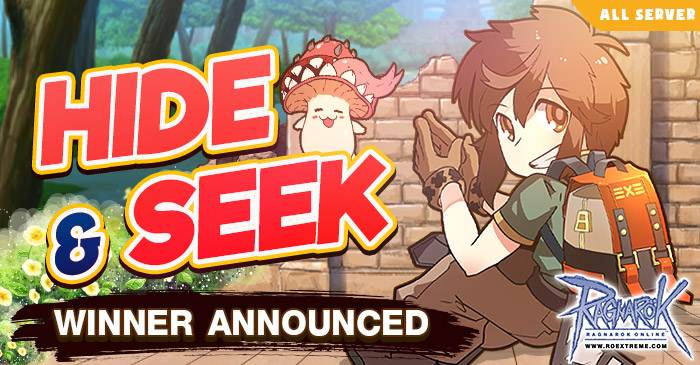 Find out more: Click!

---



Tiger Fist Scroll (450 KP)

(Now until January 14, 2021)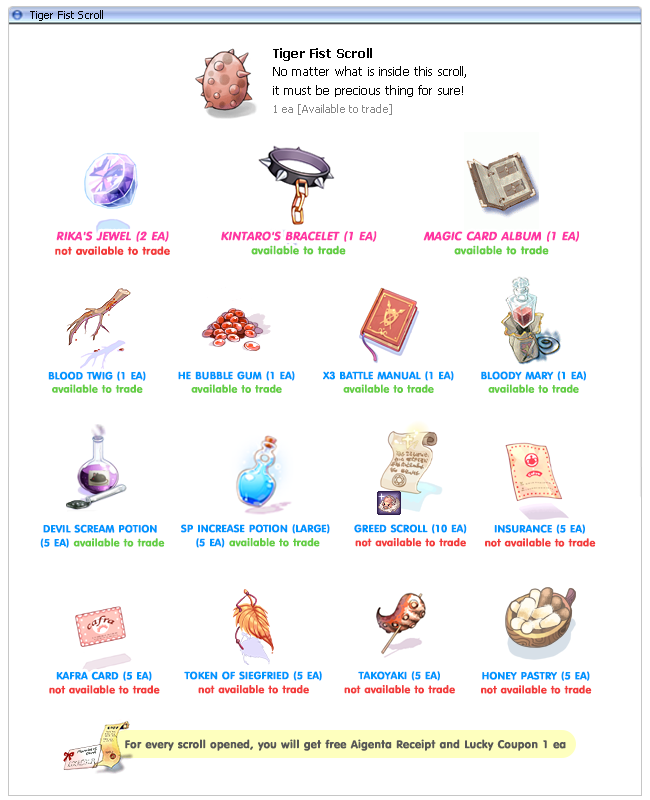 Chance to obtain this awesome equipment!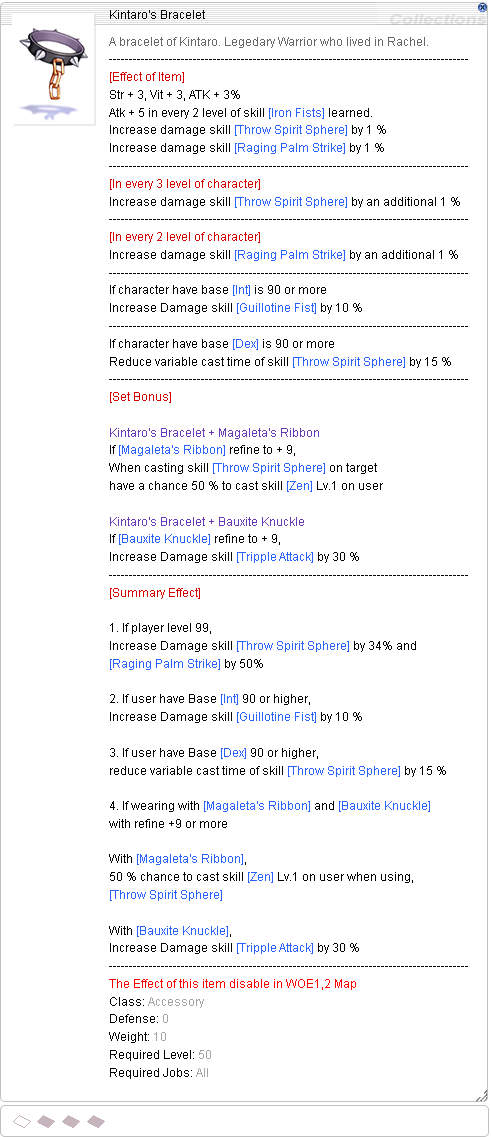 Kintaro's Bracelet Effect
Remark: Damage output from the equipment will be various
depend on both monster's and the player's factors.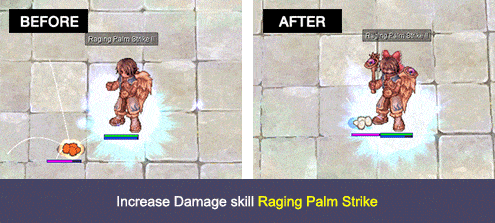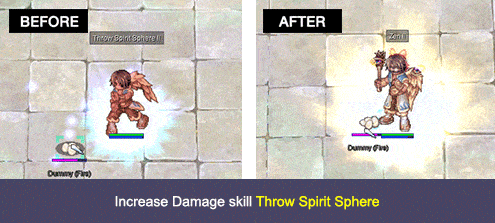 Enjoy the game
with these cool updates!
------------------------------------------------------------------
▪ Ragnarok Website :: https://roextreme.com/msp
▪ Download the game :: https://exe.in.th/msp-client-download
▪ Forums :: https://prontera.net/
▪ RO MSP Community :: fb.com/groups/ROMSPOfficial/