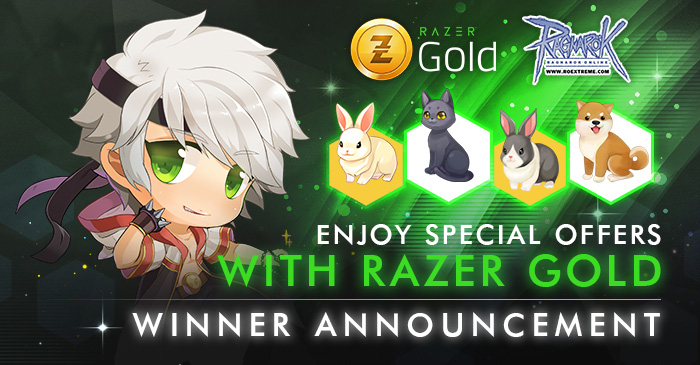 Congratulations to all players who win
the lucky draw prize from "Razer Gold Promotion"
Is your ID on the list? Check it out below.

Winners have to contact Live Chat (http://bit.ly/ROPHLiveChat) to confirm
and choose your prize within April 8, 2020, 11.59 p.m. (UTC+8)

Once you chose your prize, the items will be given to your account
within, April 9, 2020, so check your RODEX to redeem the rewards!
20 Lucky winners will have their chance
to pick one piece of costume from the list below.

YGGDRASIL SERVER

1. iamgtmeXXX [C Black Cat]
6. doXXXgg1 [C Marble Rabbit]
2. raXXXe91 [C Shiba Inu]
7. titamoXX [C White Rabbit]
3. pengpengpXXX [C Marble Rabbit]
8. omXX456 [C Black Cat]
4. luigicXXXlos2 [C Shiba Inu]
9. mtabiXX [C Marble Rabbit]
5. LeXXXr721 [C White Rabbit]
10. petXXlu99 [C Marble Rabbit]

VALHALLA SERVER

1. saXXXh41 [C White Rabbit]
6. saXXXpeach42 [C White Rabbit]
2. HuXXXr626 [C White Rabbit]
7. paruXX [C Black Cat]
3. murongteXXXX [C Black Cat]
8. yonXXXiqi0105 [C Marble Rabbit]
4. leoXXXelion [C Shiba Inu]
9. andylXX [C White Rabbit]
5. yXXXhi89 [C White Rabbit]
10. kpuXXXbarit1 [C White Rabbit]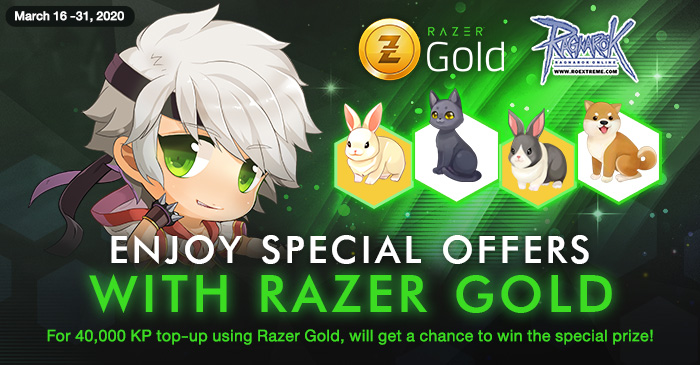 Promotion Link: https://roextreme.com/msp/news/razer-gold-promo-mar2020
------------------------------------------------------------------
▪ Ragnarok Website :: https://roextreme.com/msp
▪ Download the game :: https://exe.in.th/msp-client-download
▪ Forums :: https://prontera.net/
▪ RO MSP Community
:
:
RO Extreme MSP Official Community